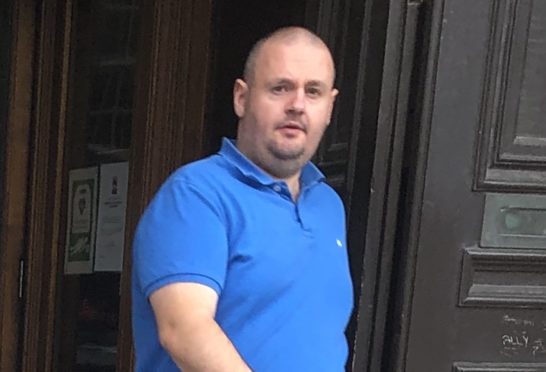 A north-east dad has avoided jail after stealing tonnes of metal pipes from his employer to pay off his growing gambling debts.
During one visit to a bookmaker, Steven McGregor lost an entire month's wages "in one fell swoop" – prompting him to turn to crime to make up the shortfall.
The 36-year-old used his supervisor position at the Peterson UK yard in Edzell to arrange for £60,000 of steel tubing and metal to be lifted on four occasions between November 2015 and April 2016.
It was loaded into a lorry then taken to Aberdeen to be sold for scrap, with McGregor pocketing thousands of pounds in cash for his efforts.
He later admitted to the thefts and appeared at Aberdeen Sheriff Court yesterday for sentencing.
His solicitor Mike Monro said the financial pressure he was under led him to gambling his earnings away in the hope of a quick pay-day.
At one point he wagered, and lost, an entire month's salary on a fixed odds betting terminal.
Mr Monro said: "He had no money to take home and realised the security (at work) was lax, to say the least.
"They trusted McGregor at the same time.
"He then put upon this plan."
The court heard that McGregor made four separate trips to sell stolen scrap metal – the largest of which was worth £48,000.
Fiscal depute Colin Neilson said: "The accused made around £6,500 to £7,000.
"He tried to resolve his financial problems, some of which were self-made."
A final estimate placed the total value of the stolen metal at £60,000, after earlier figures suggested it was nearer £200,000.
Mr Neilson said Peterson UK was able to recoup its losses by making an insurance claim.
Sheriff Andrew Miller said: "The offence here remains very serious, involving four separate occasions on which you arranged for metal that belong to a company to be uplifted from their yard and taken to a scrap dealer.
"As a result of which you received cash from the dealer, which you retained.
"You accomplished this by breaching trust which was placed on you as someone who had supervisory responsibilities for this yard."
McGregor, of Alexander Terrace in Aberdeen, was ordered to complete 200 hours of unpaid work within the next 12 months.
He was put on a year-long supervision order.