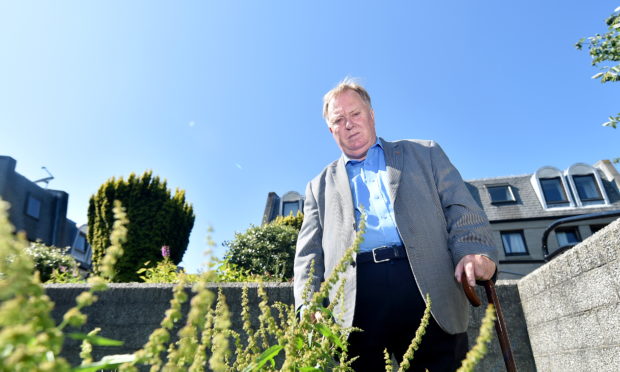 Aberdeen City Council is "neglecting" grass cutting in areas not on the judging route for prestigious competitions, it was claimed yesterday.
The Granite City boasts a proud record of wins in both Beautiful Scotland and Britain in Bloom competitions.
But with judging routes now being decided for the annual competitions, local councillors are suspicious that the authority's stretched maintenance teams will be ordered to focus on those areas.
And they have raised concerns that such a move will come at the expense of already-overgrown green spaces elsewhere in the city.
Hazlehead, Queens Cross and Countesswells Liberal Democrat councillor Martin Greig said focussing on areas within judging routes had been the "usual modus operandi" of the council in recent years.
He said: "Decisions to maintain green spaces should be based on environmental needs of the specific area, and community interests.
"The focus should be on improving the quality of life for residents of the city. It is nice to get the awards but it seems unfair to make decisions based on the route that judges take.
"Winning these prizes can encourage the enormous, positive effort to raise the environmental standards. However, at a time of massive budget cuts, we should be thinking of the basic wellbeing of residents."
Midstocket and Rosemount SNP councillor, Bill Cormie, said: "While it is great the annual competitions are coming around again, the majority of the city is being neglected.
"Our gardening staff have been cut and cut and they just can't do all the areas justice.
"Communities are up in arms about it, there are places knee deep in weeds now. With this summer being so sunny and rainy it has been perfect conditions for the grass to grow long."
But council operations convener John Wheeler branded the claims "complete and utter nonsense".
He said: "There have been cutbacks and, while we can't make everywhere in the city look like a bowling green, to suggest that routes are cut based on competitions is just wrong."
The ruling Conservative, Aberdeen Labour and independent administration approved a cut of £653,000 to maintenance around school grounds, roads, cemeteries, community centres, parks and fields in February.
The package of reductions was imposed in an effort to find more than £41 million of savings.
Complaints have come just as it was announced that Duthie Park could be crowned the best park in the UK, having been shortlisted in the Fields in Trust Best Parks competition.