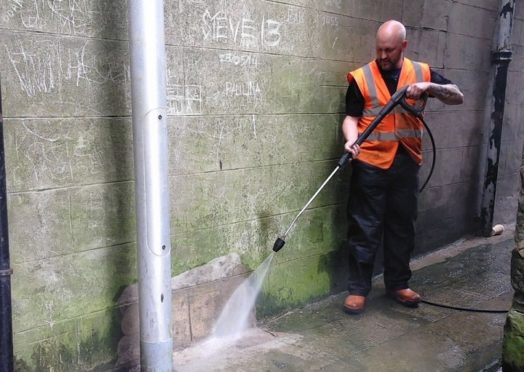 A north-east MSP has called for a new tax on chewing gum manufacturers, with the proceeds given to councils to remove the "unholy mess" of white blobs on pavements.
Discarded gum is a costly problem for local authorities, because it sticks to pavements and has to be washed off with specialist equipment.
In 2016, on Aberdeen's main thoroughfare alone, more than 250,000 pieces of gum were removed as part of the council's Operation Union Street Rejuvenation.
The following year, the authority issued a £270,000 contract to clean the gum around the city centre three times a year.
A decade ago, it was estimated that cleaning the material from the streets of Inverness was costing Highland council around £670 every day.
And now, Aberdeen Central MSP Kevin Stewart, who is also the Scottish Government's local government minister, has written to the new chancellor of the exchequer, Sajid Javid, urging him to consider introducing  a new levy on chewing gum makers.
In his letter, Mr Stewart wrote that the irresponsible discarding of gum was "creating eyesores on our streets, pavements and urban realm" and proposed that the funds raised should be given to local authorities across the UK tackle this problem.
Mr Stewart has long campaigned on the issue and urged former chancellor George Osborne to introduce a similar tax eight years ago.
Last night, the MSP said: "Spitting out chewing gum on our streets, pavements and open spaces is a disgusting habit, which creates an unholy mess that is very difficult to clean.
"I am firmly of the view that anyone caught doing this should be fined, but I also believe that the manufacturers should pay a levy on their problem product.
"Additional funding from the levy could be distributed to councils to spend on dealing with the removal of the unsightly, grey lumps that litter our urban realm.
"This isn't just an issue for Aberdeen, but one that has an impact right across these island, so I hope that the chancellor gives the thumbs up to this positive proposal."
The Treasury was contacted for comment.