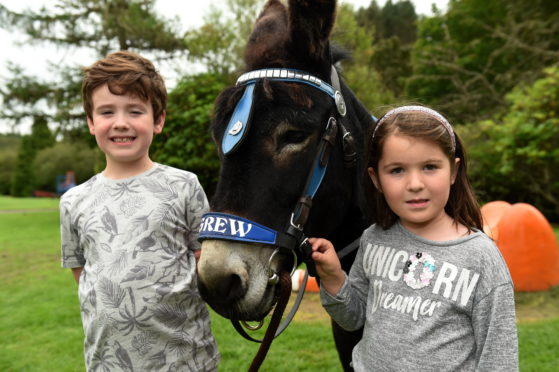 A pair of friendly donkeys will help raise money for a north-east disability charity during an upcoming fun day.
Inverurie-based Jenny's Donkeys has teamed up with North East Sensory Services (Ness) to host a "Donkey Time Picnic" to raise some much-needed funds for the group which helps deaf and blind people across the area.
Families are invited to join for a picnic walk through The Glen in Maryculter on Wednesday, October 16, to meet the storybook characters there alongside donkeys Cuthbert and McGrew.
Jenny Walker, owner of Jenny's Donkeys, explained that the pair are very friendly towards people and often visit care homes to spread cheer.
She said: "They are such kind, calm and gentle creatures. They just have a calming effect.
"They are also really unique animals that most people don't have the chance to come across everyday.
"When we take them around to the care homes there's always someone who remembers having a donkey when they were younger.
"And they're always popular with kids. They are always so excited to see them."
Mrs Walker added that the donkeys' "loving, kind and quiet nature" provides emotional and physical benefits.
George Walker, her husband, said: "My daughter fell in love with our first donkey named Dibble when we rescued him a few years ago. He was poorly and not well looked after at all.
"He suffers from a condition called uveitis which means he is almost blind, but with special care and attention we're delighted to say he's now in full health and enjoying life very much with us at home.
"We're looking forward to helping raise as much as we can for Ness with this lovely fun family day out."
Those interested in getting involved are ask to book in advance by visiting:  nesensoryservices.org