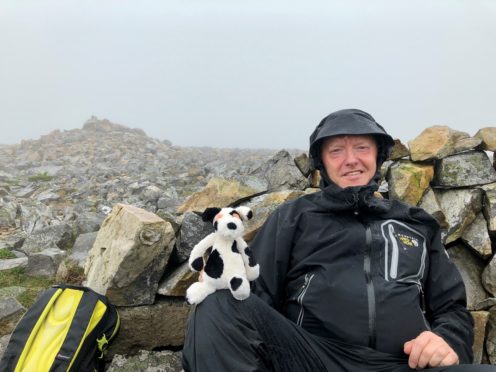 An Aberdeen man who climbed 50 Munros in 150 days is finally putting his feet up after completing an exhausting 220 miles for charity.
Since beginning the "50 in 150" challenge at the end of March, Bruce Russell, a recruitment company director, scaled a total of 93,000ft, the equivalent of three Mount Everests.
He completed the challenge on Sunday by reaching the top of Carn an Tuirc, near Braemar.
In doing so, the keen hillwalker also managed to raise £1,400 for Charlie House, a charity which helps children with complex disabilities and life-limiting conditions in the north-east.
"This was a much bigger challenge than I expected but the thought of those who would benefit kept me going," said Mr Russell.
"It's such a worthwhile cause so I'm delighted I could contribute.
"After climbing Munros right across Scotland it was nice to finish up relatively close to home.
"I was delighted to complete the challenge at the weekend and would like to thank everyone who has supported me."
Having scaled 240 of the 282 Munros, Mr Russell hopes to complete them all before the end of 2021.
Charlie House fundraising co-ordinator, Kirsty Walker, said: "We can't thank Bruce enough for what he has done.
"He's basically devoted much of his free time over the past four months to support our appeal to raise £8 million to build a specialist support centre.
"His contribution will make a huge difference to the lives of many children and young people in the north-east."