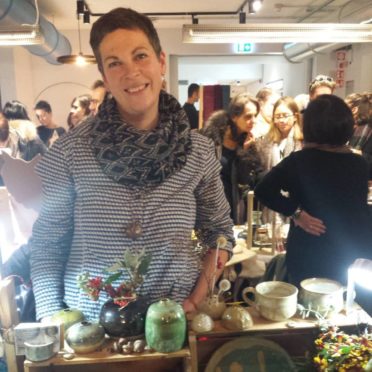 A north-east potter who has been living in Italy for 17 years is coming home to exhibit her wares in the region for the first time.
Originally from Drumoak, Kirstie Mathieson is holding an exhibition of her ceramic works at Parx café in Aberdeen, which starts this week.
After graduating in History of Art from Aberdeen University, Mrs Mathieson travelled to Rome with the intention of spending a year teaching English.
Not long after, however, she met her husband and has been in Italy ever since. She now lives in Tuscany.
Over the years, the 46-year-old has combined raising a family with working as a potter, making objects for everyday use such as cups, bowls and vases.
After jetting in to Aberdeen to hold her first north-east exhibition, Mrs Mathieson admitted she was feeling apprehensive.
She said: "I've never exhibited in the north-east so I'm a bit nervous, but really I'm just very, very happy to be exhibiting on my home patch.
"I have long exhibited at ceramics shows and markets in Italy, but it feels great now to be doing it in the north-east for the first time.
"I like to take my inspiration from nature – both from the Tuscan landscape where I live, but also from the north-east where I come from.
"My pieces are intrinsically connected to the places that I know well, places that are special to me in Italy and in Scotland, places that have shaped and influenced me.
"It's inside of me, it's a part of me, the colours, the landscape, the seascapes.
"Believe it or not but Tuscany and the north-east of Scotland are quite similar in that respect."
The opening night takes place on Friday at 6pm, and it runs until Friday, August 16.