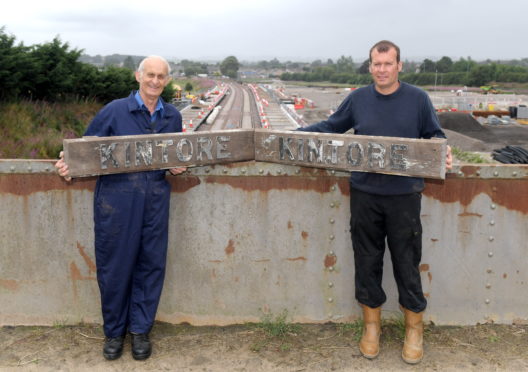 A vintage sign that once welcomed rail passengers to Kintore could be given pride of place once again when the Aberdeenshire community's railway station reopens after more than 50 years.
Kintore Railway Station first opened to trains in 1854 and was used by generations of residents until it was shut in 1964 during the Beeching cuts, a major restructuring of Britain's railways.
Now work is well underway to open a new and improved Kintore station as part of a £14.5 million project by Transport Scotland, Aberdeenshire Council and Nestrans.
Unfortunately, many of the original fixtures of the Victorian-era station have been lost to time.
Collectors of Aberdeenshire's heritage have, however, now begun to come forward to help reflect local history in the new, modern development.
Earlier this month, an old bench used by passengers and featuring the station's name was discovered at an auction and secured for the project.
And now a local farmer has come forward with two of the site's original wooden signs and hopes to reinstate one at the station.
Raymond Sharp, 71 came upon the signs soon after the station first closed in a large pile of rubbish destined to be burned in a bonfire.
He put them in a shed at his farm, where they have remained for the past 55 years.
Mr Sharp and his son Douglas, from Tavelty Farms, now wish to donate one of the signs to the developers of the new facility, and one to a local heritage group.
Douglas, 43, said: "We have had them in the shed since the old station was knocked down. My father rescued them from a bonfire and they've been in there for all that time.
"They are actually pretty well-preserved, which is great, so it would be really good to see them back up again at the station.
"It's amazing. They really are one of the last bits of the old station still in existence, alongside these benches."
East Garioch councillor Martin Ford added: "I think this would be an appropriate addition, further reinforcing the link with the historic Kintore Station.
"Perhaps the sign could be displayed in proximity to the two historic station benches it is planned to site at the new station?"