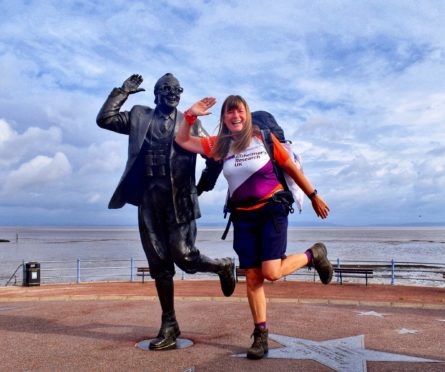 It's the trip of a lifetime for a committed mother from Wales.
But although Karen Penny, is involved in a record-breaking journey, walking the entire coastline of the UK and Ireland – including some of Scotland's remotest locations – she has embraced the Eric Morecambe philosophy of travelling with a smile.
The 53-year-old mum from Wales is committed to travelling about 20,000 miles, which will take her an estimated three years to complete, but she is raising money for Alzheimer's Research UK – the UK's leading dementia research charity – after losing both of her in-laws to different forms of dementia.
Her fundraising target is £100,000 and Mrs Penny is already nearly 40% of the way to the target, as she advances towards Scotland in the next few days.
She has made terrific progress since setting off from South Wales in January. In the first seven months of her challenge, she has already walked the complete circumference of Ireland, and the Welsh coastal path, recently passing the 3,000 mile milestone.
She is currently in the north of England, and will be reaching Scotland in the next few days, as the prelude to what could be the longest part of her odyssey.
She thinks that the Scottish leg of her journey could take her up to a year to complete, because she plans to walk the circumference of "at least" 20 Scottish islands as well as the mainland coast while she is there.
Mrs Penny said: "I'm delighted to be doing this – I wanted to do something that would get a good amount of money.
"Both my husband's parents died from dementia-related illnesses, and it had a massive effect on me. Alzheimer's is something that touches nearly every family."
She added she had been bowled over by the kindness of people she has met along the way – with offers of cups of tea, meals, company as she walks and a variety of places to stay overnight.
Her husband Mark Faulkner, a retired police officer, meets her in a camper van every six weeks – giving her somewhere to sleep and to replenish and replace supplies.
"I think it's awesome," he said. "I know she can do it."
Despite having a tent in her rucksack that she carries with her as she walks, Mrs Penny has found that much of the time, supporters have offered her accommodation instead – everything from a bird hide to a castle.
Her fundraising page is https://www.justgiving.com/fundraising/thepennyrollson and her Facebook page is https://www.facebook.com/groups/1790360527648427/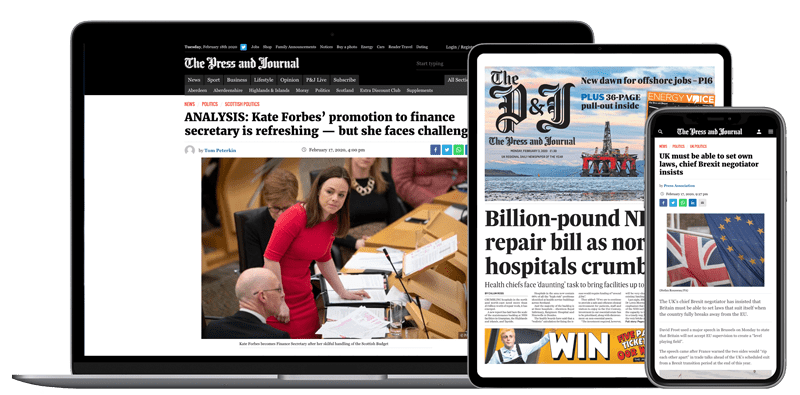 Help support quality local journalism … become a digital subscriber to The Press and Journal
For as little as £5.99 a month you can access all of our content, including Premium articles.
Subscribe