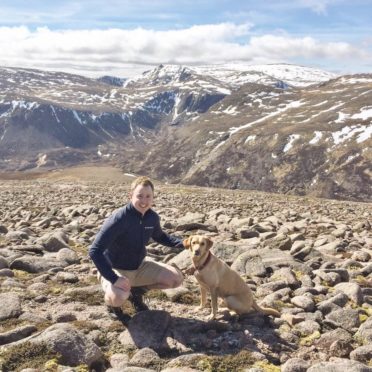 A group of intrepid hillwalkers will undertake the challenge of a lifetime when they attempt to traverse the breadth of Scotland on foot.
The friends, who all work in Aberdeen's real estate industry, are aiming to raise more than £10,000 for the Aberdeen FC Community Trust (AFCCT) during a six-day, 183-mile coast-to-coast walk from Fort William to Aberdeen.
And the blistered feet and midge bites will surely be worth it when they reach their goal at Pittodrie Stadium before the match against Ross County on August 31.
They hope to celebrate their achievement in time-honoured fashion, with a pint and hopefully a victory for the Dons.
Taking time out from training to discuss the challenge was Iain Landsman, 34, of Aberdeen.
He said: "It will be a gruelling challenge and not everyone will be able to do all of it, but there's a core five of us that are going to do the entire thing.
"It will be a pretty special thing to be able to say we have walked coast to coast. There will be a real sense of achievement."
It is far from the first major challenge the friends have taken on, as in the past they have conquered the West Highland Way and the Speyside Way.
But as they attempt to raise more than £10,000 for the trust and its work, Mr Landsman knows this one will be a little different.
"We've been training pretty seriously, making our way out to Lochnagar, taking on various routes round Deeside, from Aberdeen to Ballater and back, and up the hills around Aviemore.
"But walking from coast to coast will be something else entirely. It's a hard thing getting your legs used to 10 hours' walking a day.
"From past experience, I think it's going to be quite painful on the legs.
"And then there's the midges, which could become a bit of a problem as well.
"We're aiming to finish up at Pittodrie where we'll have a pint and then watch the game."
Mr Landsman added: "We're all ambassadors of the trust, which does a lot of great work.
"There are a lot of schemes going on right now through the trust, including walking football which has been a real hit."
In line with the trust's 'Sport for All' ethos, Mr Landsman has encouraged anyone keen to take part in a leg or two of the walk to get in touch.
For more information, visit the AFCCT Coast2Coast 2019 page on Facebook.
To donate, visit www.justgiving.com/fundraising/coast2coastafcct2019.