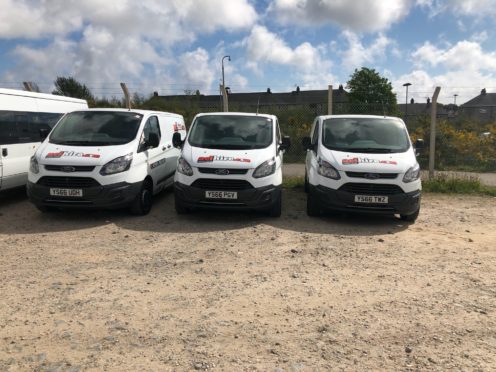 Nearly a dozen hired vans are still being used by Aberdeen City Council – more than six months after it purchased a new fleet.
The local authority bought, taxed and insured dozens of new vehicles in February and parked them at Kittybrewster depot.
But while the new vans went through their "commissioning period"- where electronic equipment is added and the council's logo applied – the council privately hired replacements to carry out council business.
It is understood more than 50 temporary vehicles were brought in.
Unions blasted the arrangement at the time and called for a probe into what they branded "a financial disgrace" amidst the need to cut millions from the council's budget.
Last night, a city council spokesman said 11 of the hired vans were still operating.
In May, the council said a contractor had been appointed to apply logos at the rate of between eight and 10 a day and vowed to finish the process "as soon as possible".
The spokesman added that all the new vehicles were expected on the road by October.
He said: "The replacement of our vans is ongoing and progressing but will not be complete until October when all vehicles will have been delivered.
"The number of vehicles being hired to cover replacement vans has currently been reduced to 11. These will be replaced as the new vehicles arrive."
In April 2018,  council bosses approved a new minimalist logo for the local authority which will be gradually introduced to the likes of vehicles.
Last night opposition Liberal Democrat infrastructure spokesman Steve Delaney said he hoped that the new vehicles could be used more quickly in future.
He said: "I think it is concerning that it has taken so long to resolve this issue.
"Fair enough the number is down significantly, but I would like to think we could have been using the new vehicles rather than hire additional ones."