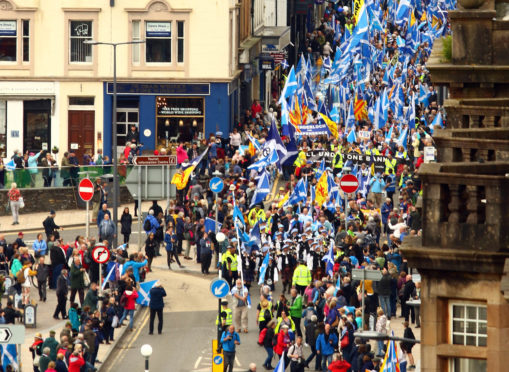 Aberdeen City Council has approved plans for a pro-independence march at the weekend.
Demonstrators will march through the city centre on Saturday and organisers claim that more than 10,000 are expected to take part.
All Under One Banner (AUOB) is behind the event and had widely publicised it online before securing permission.
Organisers had threatened to continue with the march with or without the approval of councillors.
During yesterday's meeting of the authority's licensing sub committee, however, councillors granted permission subject to the acceptance of conditions put in place by police.
Participants will walk from Albyn Place to Castlegate in Aberdeen, via Union Street and
Castle Street.
Neil Mackay, an organiser and spokesman for AUOB, was present at the meeting and said the march would be a "historic" event for the city.
---
>> Keep up to date with the latest news with The P&J newsletter
---
Local resident Stephen Beer raised safety concerns and spoke in opposition of the "disruption to Aberdeen" it will cause.
He also called for assurances there will be "an adequate number of stewards for the number of people marching".
A police spokeswoman said they had no objections or additional recommendations on top of nine conditions previously submitted to the committee.
Mr Mackay assured councillors and the public that safety was a priority issue for the group.
It is anticipated there will about 500 volunteer stewards along the route.
Mr Mackay said: "From our point of view this is a very low risk event.
"There is usually a small counter protest. There is an allocated area where we know they're going to be on the procession route.
"Both parties' civil rights are respected.
"On the day, it will all go swimmingly. Going by our track record there won't be a single arrest and won't be a single bit of trouble.
"We're just looking to make great memories on Saturday."
He added that each group would have its own police liaison officer.
The traffic management required will cost the local authority between £2,500 and £3,000 as Union Street will require to be closed for much of the afternoon.
The council will also have to pay £780 to advertise the temporary traffic regulation order.
Committee convener councillor John Reynolds asked whether AOUB would be "paying anything" towards the police costs or had "any intentions of paying the council in terms of the cost".
BREAKING: Council approves plans for independence march in Aberdeen
Mr Mackay added: "None at all. It actually comes out of the allocated budget to support the democratic rights of Scottish citizens.
"As a matter of principle we won't be paying a penny."
Committee members Gordon Townson, Taquir Malik and Ian Yuill voted to approve the plans for the march.
Mr Mackay said after the meeting: "It was good decision for the council because they were going to be perceived as prohibiting people's democratic rights if they sought to refuse permission.
"From the point of view of facilitating public safety and public order, it was also a good decision because were going to lead the procession anyway.
"We notified them that we were coming and worked closely with the authorities along the way. They have had ample time to get traffic management in place.
"Overall, we are very happy with the decision. Our stewarding is in place and our first aid plans are in place.
"We are going to have a great day on Saturday."
The march will begin at 1.30pm.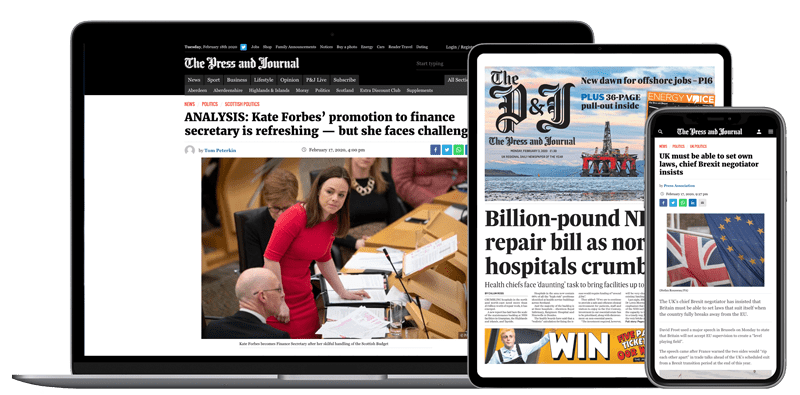 Help support quality local journalism … become a digital subscriber to The Press and Journal
For as little as £5.99 a month you can access all of our content, including Premium articles.
Subscribe