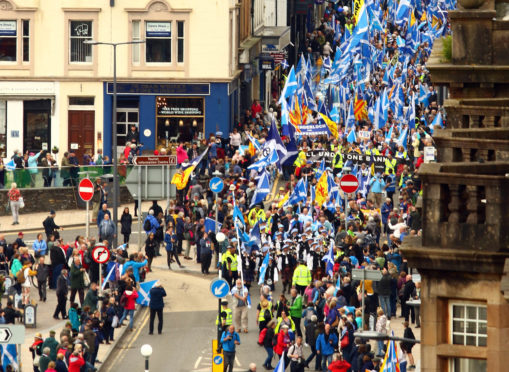 Senior Aberdeen councillors have said the city should pursue a pro-independence group for every penny their march today costs the taxpayer.
All Under One Banner (AUOB) intends to lead an estimated 10,000 along the streets ahead of a mass rally at the Castlegate.
It will require the closure of a large section of Union Street for much of the day as well as a wealth of other closures, costing the authority nearly £4,000 in the process.
The group was granted permission for the march by Aberdeen City Council earlier this week – though organisers had threatened to stage the event with or without official backing.
They have rejected any suggestion they contribute to the costs, with AUOB spokesman Neil Mackay saying the group would not pay a penny.
He described it as "a matter of principle".
But councillor John Wheeler, who was present at the meeting, said: "I asked the question about costs during committee because it is significant amount of money – somewhere in the region of £4,000.
"It is no secret we are a cash-strapped council and we have had to make some cuts since March.
"It is respected that the organisations has the right to stage its march in the city, but I do not believe it should be the public purse picking up the tab.
"The response we received during the meeting was pretty appalling, with the group saying it has no intention of paying the money back.
"On a personal level and as an elected member, I will be insisting our officers pursue them for this money."
Fellow councillor John Reynolds added: "I think it is important we separate the financial aspect of this matter from the planning.
"During the meeting, I said that I found it disappointing the group's response was that they would not be paying any of the money back.
"From the perspective of a councillor, I would hope the council would chase anyone – not just this organisation – for money that is owed.
"We represent the people of Aberdeen and it is our duty to make sure these things are followed through."
Mr Reynolds added that he looked forward to the march passing "without incident".
A council spokeswoman added: "The council has incurred costs in relation to traffic management for the All Under One Banner march and a decision will be taken in due course as to recovery of these costs."
Pro-union campaigners have signaled their intention to attend today's event and are expected to gather at a designated location.
Around 500 stewards are understood to have been arranged but policing costs will add to the overall bill for the mass march and rally.
At this week's council meeting it was revealed each group will have their own police liaisons during the event.
Participants in the independence march will walk from Albyn Place to Castlegate, via Union Street and Castle Street.
A number of Aberdeen roads will be temporarily shut.
The march will start at 1.30pm at Albyn Place and is expected to finish at around 5pm.
Major closures include King Street from Union Street to West North Street from 1.15pm until 5pm, Marischal Street at its junction with Castle Street from 1.15pm until 5pm, Union Terrace from Union Street to Rosemount Viaduct from 1.15pm until 3pm and Bridge Street from Union Street to Bridge Place from 1.15pm until 3pm.
There will be various alternative routes in place. The measures have been introduced to ensure public safety during the march.