Organisers of a pro-independence march that attracted thousands of people to Aberdeen say it was a clear indicator of the north-east's "desire" to split from the union.
The first All Under One Banner (AUOB) procession took place in the Granite City on Saturday and not even the occasional torrential downpour could dampen spirits.
Union Street turned into a sea of saltires as tartan-clad supporters marched from Albyn Road to the Castlegate.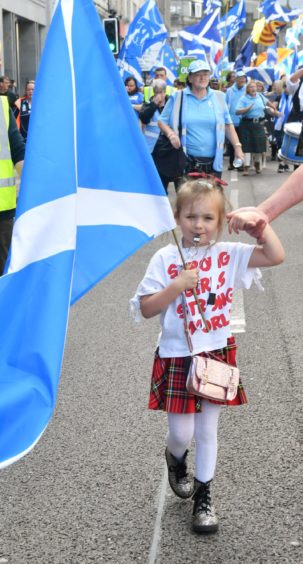 An exact figure for the number of people who took part is not known, though AUOB estimated the attendance at about 12,000.
Pro-union group A Force For Good, whose counter presence attracted a smaller crowd, claimed just 2,500 marched down Union Street.
To kick-off the event at 1.30pm, a group of bikers rode down Union Street bearing saltire flags before those on foot set-off to the sounds of bagpipes and drums.
The only conflict came when marchers encountered the counter demonstration at the junction of Market Street, prompting loud jeers and verbal sparring from both sides.
AUOB organiser Neil Mackay hailed the event as a success.
"It has all gone very well from our side of things," he said.
"It has been fantastic day with around 12,000 people taking part, which is a really good turnout anywhere in Scotland.
"It shows the desire for independence. We never have a dull event. It is a protest but it is a peaceful protest against London rule.
"There are people of all ages here and it is a really inclusive event. We had no trouble at all with the counter protest from our side or their side.
"My favourite part is always the starting moment, with the pipe band and drumming – it always has great energy."
Independence supporters from across Scotland had travelled to the Granite City to take part in the march.
John Duncan, from Ellon, was one of those from the north-east.
He said: "I think there is a lot going on in the independence movement and I think it is important there it is very visible.
"There has been a really nice atmosphere today."
Dave Drysder from Stonehaven, who also attended the march, said: "I've been to other events before and I think it shows we are going to be independent.
"There have been a number of events in the central belt and it shows there is an appetite for independence here."
A spokesman for a Force for Good claimed the number of people taking part had been inflated.
He said: "AUOB lie about the numbers of people who attend their marches, sometimes up to 10 or 12 times. In this case, by over four times.
"The good news is that A Force For Good has a presence at every AUOB march.
"We bear witness to the huge value of the United Kingdom. We also film and count them and we reveal the truth about their numbers.
"At Aberdeen they are claiming 12,000 but we filmed and counted them in at 2,563."
Police said there had been no incidents and no arrests.
The long road to Aberdeen indy march
The staging of the march was a long road in itself- with organisers having to change the route at the 11th hour and permission only granted by council chiefs days before hand.
All Under One Banner (AUOB) had initially planned to march from the Castlegate to Duthie Park only to be balked by safety considerations.
They went back to the drawing board and scaled-back the plans to plot a path from Albyn Place to the Castlegate instead.
But without council permission there were questions whether it would be staged at all – despite being widely advertised online.
A week before the march, and before the council had permission, Unionist group A Force for Good announced they would be holding a counter-protest – and counting the numbers of marchers.
The numbers attending the gatherings have always been the subject of intense debate- with organisers accused of routinely inflating the figures, with unionist opponents said to downplay them.
A police report ahead of the march revealed the force was preparing for up to 10,000 attendees.
A special meeting at the council was convened last Wednesday to decide whether permission would be granted – despite AUOB chiefs saying it would go ahead no matter the decision and that the procession would be protected by European freedom of assembly legislation.
Senior councillors have said they will pursue the roughly £4,000 costs from the march that the local authority will have to pay.
The group has rejected suggestions they contribute to the costs, with AUOB spokesman Neil Mackay saying the group would not pay a penny as a matter of principle.