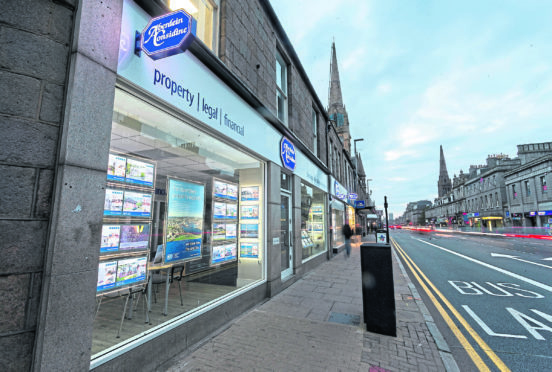 The cost of buying a home in Aberdeen has risen for the first time since 2017 as thousands of jobs return to the North Sea oil and gas sector, according to a new report.
Average property prices in the Granite City increased by 1.7% to £202,011 in the second quarter of the year, when compared to the same period between April and June in 2018.
Purchasing a home in Aberdeenshire was up 0.3% in the period to £211,149, while in Highland the quarterly average had risen by 3.5% to £183,292, and in Moray there was a 2.7% increase to £172,363.
The Western Isles experienced the second highest percentage rise in Scotland, soaring by 13.7% on last year to £118,008, an increase that was topped only by East Lothian.
But there was a fall of 8% to £175,105 in the Shetland Islands, the second largest drop in Scotland, after South Ayrshire.
However the report shows that across Scotland as a whole, the property market has soared to an 11-year high ahead of Brexit.
The quarterly monitor produced by the estate agents and legal firm Aberdein Considine also showed that the average price in Orkney had risen by 3.5% to £157,317, and in Argyll and Bute it was up by 2.1% to £164,428.
Across Scotland, the study found that transactions worth more than £8billion were registered between January and June this year – the highest since 2008.
Robert Fraser, senior property partner at Aberdein Considine, said bullish buyers were "taking a long-term view on the market" amid the current economic uncertainty.
"Buying a house is not something people do with tomorrow or next year in mind," he said.
"It's a considered decision which most purchasers take with a medium to long-term view – and these figures suggest people are looking beyond the current political and economic headwinds with a degree of confidence."
The price increases in Aberdeen and Aberdeenshire emerged amid renewed optimism in the UK oil and gas sector, with the industry expecting to support 10,000 more jobs in 2019 compared to last year.
"As the optimism around the oil and gas sector, as well as news of longer term investment plans, has filtered through, demand for housing has pushed prices higher," Mr Fraser said.
"Aberdeen and Aberdeenshire have seen a marked change in buying patterns during the last few months, which is reflected in the type of activity in both areas.
"Whilst first time buyers would normally be looking for flats in and around the city, it would seem that those same buyers may be taking advantage of historically lower prices in the suburbs, and are now exploring the possibility of securing what are now more affordable, larger homes in more rural areas."