Thousands of runners pounded the streets for the last Great Aberdeen Run yesterday.
Lively spectators soaked up the warm weather to encourage the 5,000 runners who took part in either the one-mile family run, 10K or half marathon.
Organisers announced last week that this was the final Great Aberdeen Run, and yesterday hundreds of people lined up to make it a memorable one for those taking part.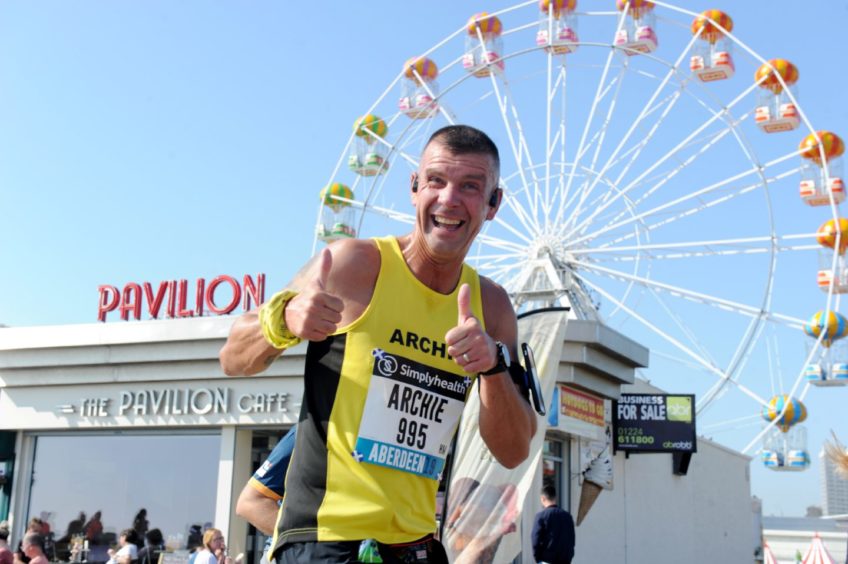 Each run finished on Union Street, guaranteeing a bumper crowd at the start and finishing lines.
Recreational joggers and charity fundraisers joined some of Scotland's top athletes for the event, which returned to the city for the third time.
Among the throng of runners were dedicated waves from Aberdeen University, Police Scotland, jogscotland and Aberdeen Football Club.
In particular, the Aberdeen FC 'red wave' was more than 1,000 strong, and along with supporters aged 12 to 76, a number of staff members from the club  also took part.
Brig o'Balgownie, King's College, Marischal College and the Art Gallery were among the landmarks along the way.
Jayne Fearn, Simplyhealth Great Run manager, said it had been an "amazing" day and the perfect way to end the three-year contract to bring the event to the Granite City.
"It was truly inspiring to see so many runners of all ages and ability, taking on the challenge and pushing their own limits," she said.
"We're really proud to be supporting runners every step of the way, helping them achieve and maintain better health through being more active."
Competitors travelled from as far as Australia, Kazakhstan and the United States to take on the sporting event.
Councillor Marie Boulton, the council's culture spokeswoman, said: "The city has been brought to life this weekend, it has been a fantastic event with thousands turning out.
"It has also been great to see so many out and enjoying what the city has to offer with Celebrate Aberdeen and Inspired Nights flooding the city with entertainment and activity.
"It has been a pleasure working with the Great Run company and we look forward to working with the local running communities to explore new sporting and cultural opportunities to replace the run."
Adrian Watson, chief executive of Aberdeen Inspired, said: "Over the past three years, the Great Aberdeen Run has really shown off the gems of our city and the surrounding area, and attracted thousands of people to take part.
"There was an incredible atmosphere over the weekend with the combination of the run, Celebrate Aberdeen and Inspired Nights on the Green and it was amazing to see so many people in the city centre having such a good time.
"A huge well done to all the runners and our thanks also go to everyone that has supported and engaged with the Great Aberdeen Run."
A spokesman for the Great Run Company said: "We'd like to thank all of our partners for their support and the people of Aberdeen for getting behind the event, whether as runners, volunteers or spectators over the last three years."