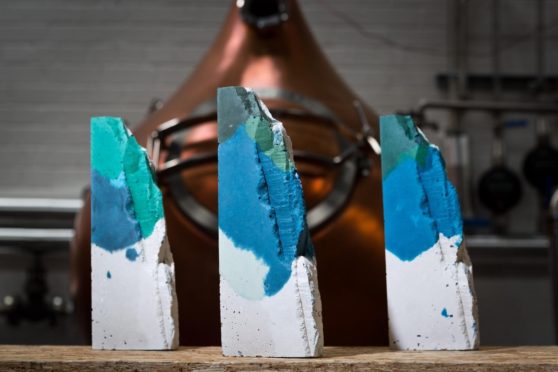 A Gray's Art School graduate, Emma McDowall, has created 10 bespoke trophies which will be received next month by the artists shortlisted in the Scottish Album of the Year Awards.
Developed by the Scottish Music Industry Association, the competition is one of the nation's most prestigious art prizes, with £20,000 up for grabs for the winner and £1,000 awarded to the nine runners-up.
The trophy design, curated by Edinburgh's Local Heroes and supported by Sweetdram, is a unique feature of the event and has prompted everything from ceramic bells to handmade quilts in recent years.
The textile design graduate was inspired by the basalt cliffs of Edinburgh's Salisbury Crags for her commission.
Miss McDowall said she was "delighted" to have been chosen to manufacture the award.
She said: "This commission really gave me the freedom to be expressive, sculptural and experimental without any of the commercial pressures.
"I took colour inspiration from Scottish landscape – deep grey-blues and forest greens dropping into a natural sand tone, creating interesting details where they blend."
The SAY contest supports the strength and diversity of Scotland's musical output and celebrates the relationship it shares with the design world.
The artist added: "I also incorporated a UV element on the textured face of the object to add something unexpected and honour the exciting nature of the awards and the nominated artists."
Hilary Goodfellow from The Scottish Album of the Year Award said: "The Design Commission is one of my favourite parts of award, it's a chance to explore the special reciprocal relationship between art, design and music.
This year's SAY Award ceremony is due to take place on September 6 at The Assembly Rooms in Edinburgh.