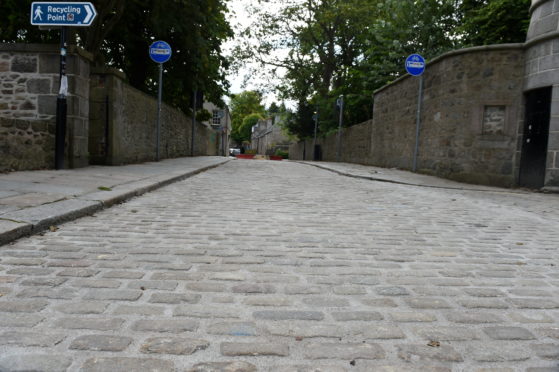 A historic Aberdeen road has finally been restored to its former glory 16 months after the council provoked fury by carrying out a temporary repair using tarmac.
Black patches were smeared over the granite setts on High Street in Old Aberdeen last May as part of an "emergency" effort after safety concerns were raised about the uneven surface.
The local authority began carrying out a more lasting £100,000 upgrade to the 230ft by 22ft stretch two months ago.
And yesterday, it was confirmed that the scheme had reached completion "on schedule", though the road will remain closed for three more weeks to allow for the concrete to cure.
Initially, residents had been told that work would begin by this spring, but the contractor and nearby Aberdeen University delayed it until July 15 in order to avoid disrupting the institution's graduation ceremonies.
The local authority also had to wait until this financial year in order to find the funds to pay for repairs.
Councillor Ross Grant, who represents the ward, said: "I was incredibly grateful that my council colleagues supported investing more than £100,000 into this project – which is now concluding on time and on budget.
"This ensures that this key section of the historic High Street is in a far better condition, and that will no doubt be welcomed by local residents.
"I would also like to thank the Old Aberdeen Community Council for their productive engagement in ensuring this project came to fruition."