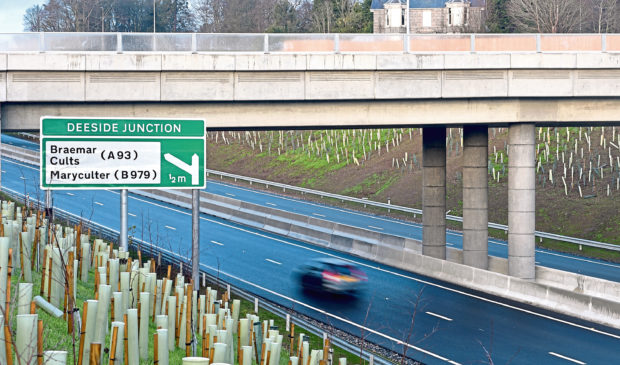 Transport chiefs have racked up a £600,000 legal bill as they fight a compensation claim over Aberdeen's new bypass.
Documents released to The Press and Journal show that Transport Scotland has paid out the money to law firms in the last 18 months to cover the cost of legal disputes relating to the AWPR.
It includes £95,659 in payments to lawyers in March alone, as well as about £70,000 in February, around the time the 36-mile road finally fully opened to drivers.
The Scottish Government agency also anticipates having to fork out a further £9.6 million in future costs to bodies unrelated to the project contractor, including to cover invoices from utility firms and further legal bills.
As well as the usual expenditure associated with such a large infrastructure project, the amount paid to lawyers is believed to be linked to several legal wrangles faced by ministers as they tried to get the road open.
They include issues relating to compensating landowners, dealing with the collapse of contractor Carillion, and negotiations around a contract change to open a 19.6-mile section of the road from Craibstone to Stonehaven in December.
It is understood the legal costs are also related to an ongoing compensation claim from construction firms Galliford Try and Balfour Beatty, the remaining members of the Aberdeen Roads Ltd (ARL) consortium which built the AWPR.
Last night, north-east Labour MSP Lewis Macdonald said he hoped the spending did not represent a "waste of public money".
He said: "Scottish ministers are obliged to resist any unfounded or unreasonable claims by the builders of the AWPR, and that costs money to do.
"They are equally obliged not to waste public money on court cases which they cannot win, and deciding which is which is a matter of professional judgement by the government's own legal advisers.
"We know the builders of the AWPR reckon they are out of pocket by hundreds of millions of pounds.
"Taxpayers are entitled to know if the government cannot resist those claims, and ministers must be open and transparent about the cost of any legal action or fees to the public purse."
The official and fixed price tag for the bypass came in at £745m, which included a contract worth about £530m to ARL, but the consortium has reported hefty losses on the project, claiming the true bill over 30 years has soared beyond £1.5bn.
ARL bosses have indicated they believe they are entitled to claw back some of the cost overruns, and have suggested they will take legal action if talks with Transport Scotland fail.
Figures released under freedom of information laws show that legal firm Anderson Strathern was paid £332,000 by Transport Scotland last year for services related to the AWPR, and has received about £256,000 in the first seven months of 2019.
Another £2,482 has been paid to a different Scottish law firm in the last 18 months, and the Faculty Of Advocates received £3,600 in September last year.
A Transport Scotland spokesman said: "As principle funder of AWPR, Transport Scotland is tasked with managing and protecting Scottish ministers' and partners' investment in the project and occasionally requires specialist legal and technical advice to perform these project management functions.
"Contingency for reasonably anticipated eventualities such as these is always allowed for in our project budgets."
On the anticipated future bill of £9.6m in relation to the AWPR, which is unrelated to the contractual payments to ARL, the spokesman added: "The expected future costs are made up of payments for utility diversions which were essential in order to deliver the project, but for which invoices are yet to be submitted."