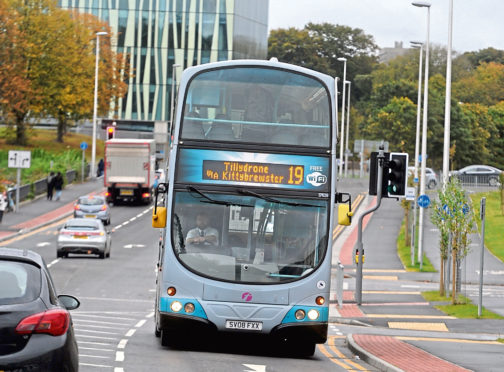 Long-term plans for Aberdeen City Council to potentially buy First Aberdeen and operate a public network should be put on ice until relevant legislation has passed, councillors have been advised.
The ruling administration has long sought to purchase the company, which would include the fleet and King Street depot, to run a service akin to Edinburgh's Lothian buses.
However, the plans are still reliant on the Scottish Parliament progressing the relevant legislation to allow councils to take control of services.
While MSPs have backed changes to the Transport Bill that will allow local authorities to run bus services directly or through an arms-length company, the laws are still in draft stage.
First Bus is currently selling its UK operations.
In a report to next week's capital committee, transport officer Chris Cormack states: "This legislation is only draft at this time and it is not clear when this will be passed and implemented.
"Until such time, it would be premature to make any bid for First Aberdeen, as it is not clear that the council has any statutory power to do so, as a local authority entity, and on this basis it is recommended that the council would be best to await the outcome of the Transport (Scotland) Bill, before further considering the matter."
Council co-leader Jenny Laing said:  "We are keen to explore all the options around improving public transport in the city.
"What is unsustainable is subsidising uneconomical private bus routes given the funding challenges faced by councils."
A spokesman for First Group said: "As we have stated, there are a number of potential outcomes for the separation of First Bus from the group and we are currently pursuing these options.
"This could be via a sale – either as a whole or in part – or by other means such as a demerger or partnership. Our bus companies are attractive businesses and we're seeing interest from a wide range of parties."