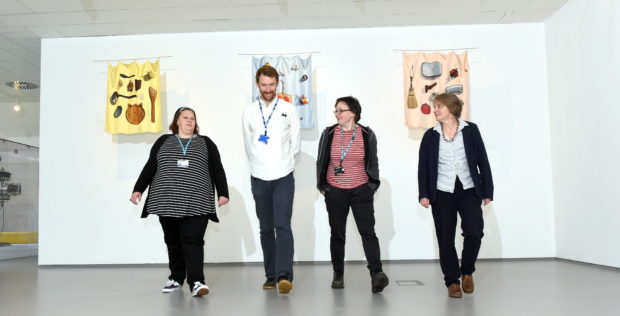 The room is stark, white and almost silent, as the occasional visitor pauses to admire the exhibits.
You never know what you'll find at The Suttie Arts Space, which displays work from north-east artists who may be in the early stages of their career.
It is also home to the first full body MRI scanner, Mark-1. The revolutionary machine was designed and built at Aberdeen University, and is now on display as a fascinating slice of medical history.
This space – which was opened in 2014 – is accessible 24 hours a day, providing a kind of refuge to those who may need it in the small hours.
Nurses working the late shift, on-call consultants, tired porters or worried family members – whose loved ones may be in the wards below.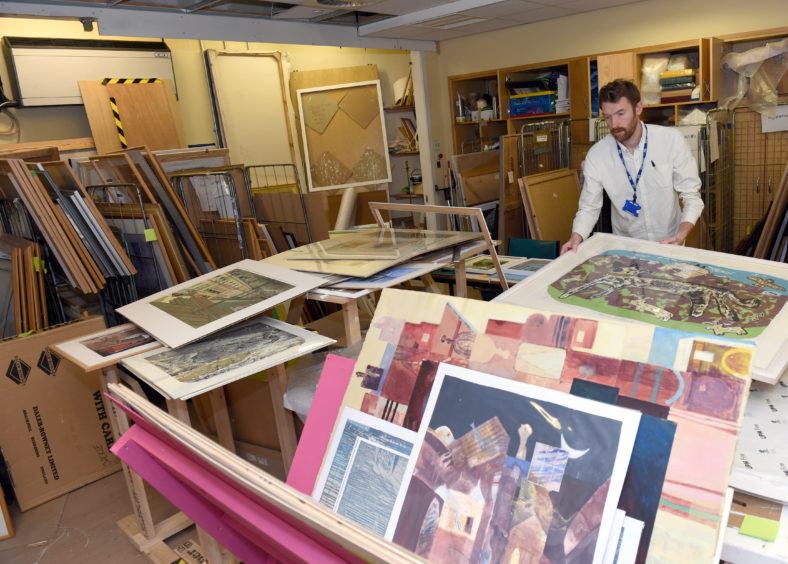 It can be found in Aberdeen Royal Infirmary (ARI), located directly above the operating theatres.
The gallery is believed to be the first purpose-built art gallery in an acute hospital setting.
The sense of calm is in direct contrast to the busy wards where there is the squeak of wheels from hospital beds and the flicker of harsh overhead lighting.
In an environment where science reigns supreme, is there room for something as subjective as art?
Sally Thomson has been leading the way as director of Grampian Hospitals Art Trust (GHAT) for more than a decade, and believes there has been a huge shift with a more holistic approach to wellbeing.
We meet outside Marks & Spencer at ARI, where staff hurriedly buy sandwiches before rushing down the maze of corridors.
Sally's handshake is surprisingly firm, and we stop to buy coffee before she excitedly leads the way.
"The idea for art within the hospital actually came from Norman Matheson, who was a consultant surgeon," said Sally.
"It was 1984, and he thought art was a brilliant idea as a way of improving the hospital experience for all.
"The Grampian Hospitals Art Trust was formed in 1990; we work very closely with Gray's School of Art.
"It's not just the ARI, we work in NHS buildings right across the Grampian region.
"It's simple really – by improving the hospital environment through displaying art, everyone who spends time here can feel better.
"There have been dozens of studies on the positive link between art and wellbeing, and many people in the medical profession respect that.
"Art can sometimes be considered a luxury and that shouldn't be the case."
But how do you display art in a hospital, where the focus must always remain on saving lives?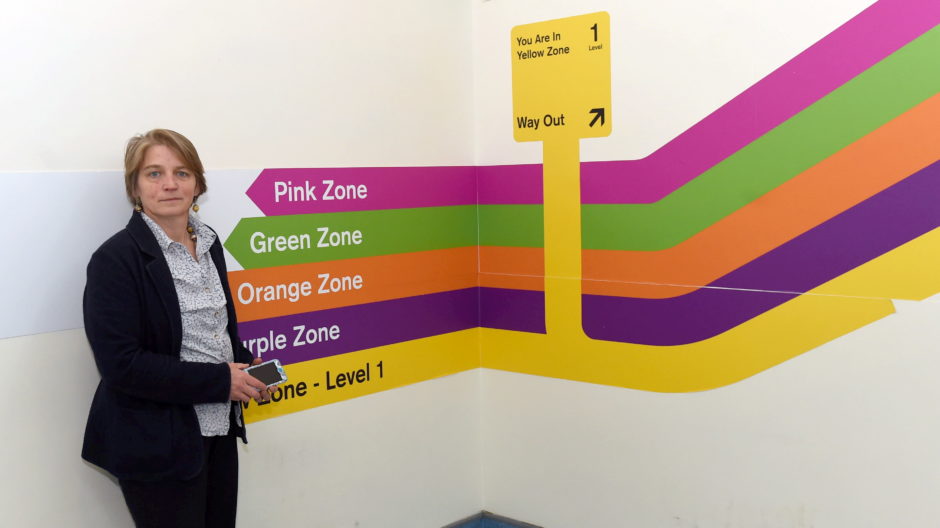 "We're not here to change the environment, we're here to enhance it," said Sally.
"There are the porters who walk miles every day, and need something more than bare white walls to look at. There are the patients, some of whom may be in here for a long time.
"If you don't have any stimulation, you go into yourself.
"We run various projects and we can distract patients by challenging their thoughts.
"The same goes for visitors – there's only so many times you can sit round someone's bed and talk about the weather.
"Art creates conversation; we're the only art gallery in a hospital in Britain and maybe even in Europe.
"Art is everywhere, it is part of our being and it means different things to different people."
Sally hands over to Fraser MacDonald, who is collection co-ordinator.
We head off on a tour of ARI, pausing to look at framed pictures in the corridors.
"You get different people in The Suttie Arts Space depending on the time of day; patients tend to pay a visit overnight," said Fraser.
"During the day they are having scans and treatment, night time is really the only chance they get just to be.
"We like to support artists in the early stages of their career – it can be pretty daunting when you are an emerging artist."
Fraser is also preparing to ask people from within the NHS to submit their own work.
"That's a pretty exciting project, we want submissions from everyone," he said.
"From surgeons to porters, we want the call to go far and wide."
Porters have also had a hand in a project which is in the early stages.
We pause next to an exhibit by Malcolm McCoig, called An Orkney Diary.
"This is part of our Art from A to B project," said Fraser.
"We've been working with the porters and they chose what they wanted to see on the walls.
"It has enabled art to become a talking point as they wheel patients all over the hospital.
"We also invite staff to our store to choose art work. Often they'll get in touch with us and say they'd like something for the ward.
"They can request certain pieces of work or just have a look around."
The store can be found in the bowels of the hospital, and is an Aladdin's cave of drawings and paintings.
"GHAT has more than 43,000 pieces of art," said Fraser.
"Staff at NHS Grampian are brilliant to work with, they're very proactive and love coming down here.
"If they don't have much time, we can pick out a selection which we think might work for the specific ward.
"It's a much better system than simply sending art all over the hospital, without asking staff what they think.
"The north-east is a fantastic place to be for emerging artists.
"Dundee may have the V&A, but there are plenty of opportunities here."
It's not just a case of hanging art on the walls, however, as both patients and staff get the chance to try art for themselves.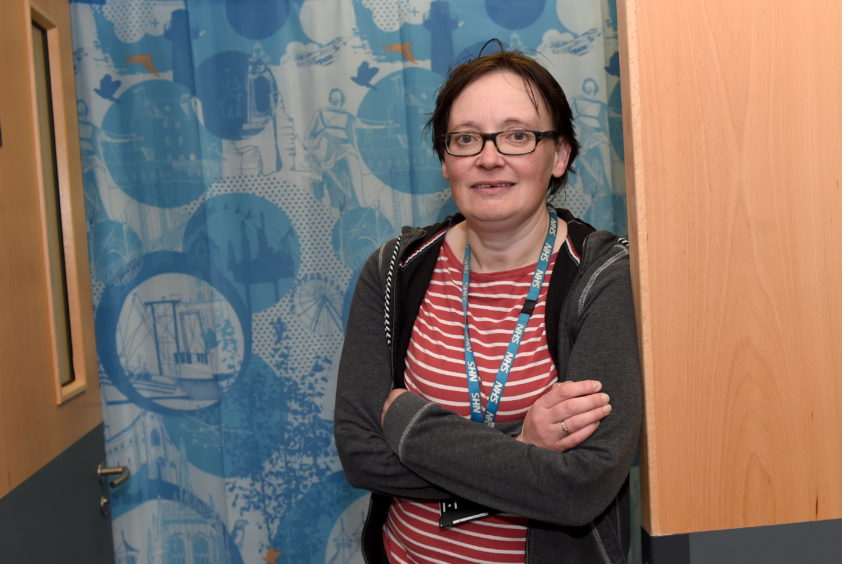 Award-winning poet Jo Hastie co-ordinates Artroom, which delivers 12 sessions per week, covering 15 wards across four NHS Grampian locations.
With bright purple eyeshadow and a funky headband, she is every inch the creative type, but Jo believes anyone can harness their creativity.
Art and writing sessions take place in a group or on a one-to-one basis, with experienced art practitioners.
The project was piloted in 2008 at Roxburghe House, which is a specialist palliative care unit in Aberdeen.
"If you ask people to come and do some art, they will usually say that they weren't good at art at school," said Jo.
"That's the most common answer.
"We don't set up tasks for people to do because there's the pressure to be good at it.
"Participating in Artroom can allow you to become the person you were before illness.
"When people come into hospital, you lose control over basic things. You can't continue in your role as a parent or the breadwinner.
"Art is incredibly therapeutic and can enable you to come to terms with what has happened.
"For once, you have control and in that moment you are no longer a patient.
"I love seeing the impact Artroom can have on individual people.
"I remember there was a patient who didn't want to do Artroom at all, and that was fine.
"Eventually she came in and sat at the table, but she said she wasn't going to do any art.
"Within a few weeks, her bedroom was festooned with her creations.
"That's what it's all about."
The final stop is the neonatal unit within the maternity hospital.
Tamsin Greenlaw leads the way, pointing out quirky exhibits before we arrive.
"You'll find art throughout the hospital, you can even use it if you get lost," said Tamsin, who is senior manager for exhibitions and projects.
"You'll notice clear signage which is colour coded, GHAT was involved with that.
"People need to be able to find their way, so each ward is categorised by colour.
"It's simple and effective.
"If you happen to be in the emergency care centre, the curtains pulled around the beds depict local scenes.
"They were commissioned from a Moray-based designer, and now they are going to be rolled out across NHS Grampian.
"There are also haiku poems on some of the walls, you can use them as a landmark if you get lost."
GHAT was approached by the neonatal unit three years ago to try to change the look and feel of the environment.
Artist Lynne Strachan created a theme throughout the unit, which will also be replicated in the new Baird Family Hospital when the unit is relocated in 2022.
"There's little giraffes on the wall and animal paw prints which lead the way down the corridor," said Tamsin.
"It was such a rewarding project to be part of.
"Art can have an impact on you whether you're coming in for a minor surgical procedure, visiting someone or starting your shift.
"Art matters because it can help anyone and everyone feel better.
"That's pretty amazing really."
For more information visit ghat-art.org.uk