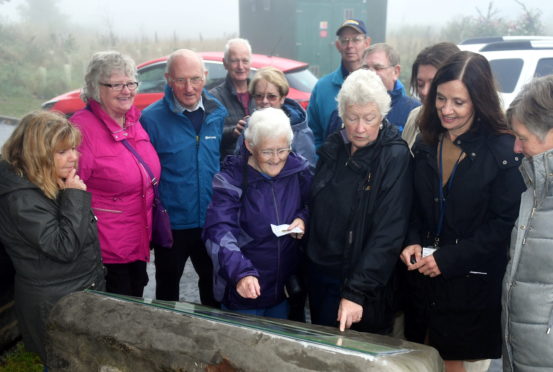 Cairns are being erected throughout an Aberdeen fishing community to remind residents of its historical roots amid its rapid expansion.
The first of five plaques was officially unveiled in Cove Bay, to the south of the city, yesterday.
Each has been placed in a historically important location, featuring information about notable past inhabitants and events, and photographs from residents and The Press and Journal's archives.
One of the cairns marks the site of the former Mains of Loirston, which was used as a dairy farm by one of the area's best-known families.
It was set up and operated by William and Elizabeth Allan in the 1940s, and was later taken over by their son Sandy until the land was bought for housing in 2009.
Their daughter Margaret bequeathed £10,000 to the area on her death – to be used to highlight Cove's farming history.
And yesterday her niece, Liz Allan, unveiled the first of the new plaques created to keep her legacy alive.
She said: "I think the cairns are such a good idea and it will let people in Cove appreciate where it has come from.
"When I was growing up there were still farmers in Cove ploughing their fields with horses, and everybody knew everybody.
"It is still a great community but as it gets bigger some of that is going to get lost, but I hope that the new people who come in can see these and enjoy being Covers too."
Work to install plaques on the remaining cairns – at South Loirston Road, Altens Community Centre, Cove Library and Charleston School – will continue during dry weather in the coming days.
The information on each was compiled by Michele McPartlin, who is also the chairwoman of Cove and Altens Community Council.
"I'm hoping this will get people thinking more about the history of Cove and the community – and perhaps start trying to do some research themselves," she said.
"There have been a lot of interesting stories so it's taken a long time.
"It was like a journey where I didn't know where I was going, but it has been fantastic."