VIDEO: Aberdeen veteran, 97, given hero's welcome as he arrives home after daring parachute stunt
A 97-year-old veteran who parachuted over the Dutch city he was captured in 75 years ago was given a hero's welcome as he arrived home in Aberdeen.
When he was 22, paratrooper Sandy Cortmann leapt from a plane and straight into the gunfire of the Battle of Arnhem, which is remembered as one of the bloodiest of the Second World War.
And he repeated the feat at the weekend, landing on the same drop zone as he had in 1944, before visiting the graves of his fallen friends.
Back home, his achievement was celebrated at Fairview House Care Home in Bridge of Don, where he was surprised with a special party in his honour yesterday.
Mr Cortmann was given a guard of honour and treated to some Highland dancing, before being presented with a giant cake.
"This is glorious – that is the only way I can describe it," he said.
But amid the festivities, Mr Cortmann felt it was also time for reflection.
He said: "I'm thinking of the lads that we lost – my prime reason for going to Arnhem was to see the grave, have a word with them and pat the headstone.
"They were all smashing guys and I was close with them all.
"It was 75 years ago but, to me, it could have been yesterday – especially having heard all this today."
Battle of Arnhem veteran: I wanted to see Gordon's stone so I could say 'hi pal'
Mr Cortmann said the experience is one he would encourage everyone to consider.
"The hatch opened and I thought 'that's a long way down'," he said.
"But I didn't think fear – I just thought about the guy behind me and my confidence in him.
"You had the roar of the plane, then you open the hatch and there's silence – and it's some silence."
He added: "It was absolutely exhilarating. You'll do it once then want to do it again and again.
"It was a tremendous feeling."
Mr Cortmann took on a rigorous training regime to ensure he was fit and flexible enough to complete the jump – often walking the hallways with a frame and the support of the staff.
Care home manager Andrea Campbell said: "It's just phenomenal.
"Everybody has been involved and it's been a whole team effort for Sandy to have achieved this as we really wanted to make this happen."
Lord Provost Barney Crockett was also at the celebration.
He said: "Sandy has been a huge inspiration. To do what he did is beyond belief.
"The people who have helped him deserve credit as well, and it's great that the people of Aberdeen appreciate what he has done."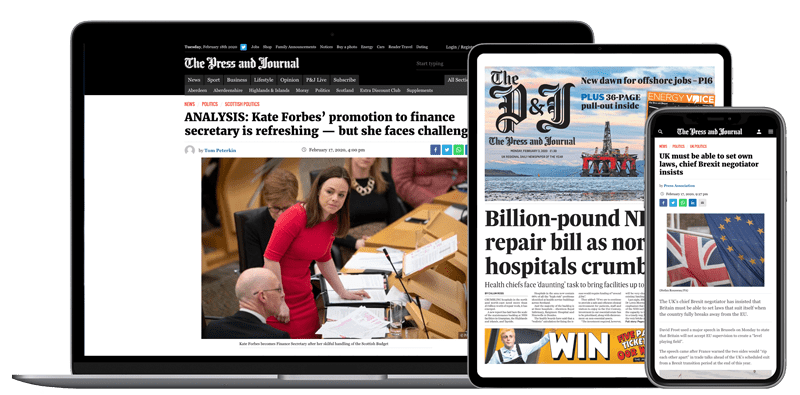 Help support quality local journalism … become a digital subscriber to The Press and Journal
For as little as £5.99 a month you can access all of our content, including Premium articles.
Subscribe