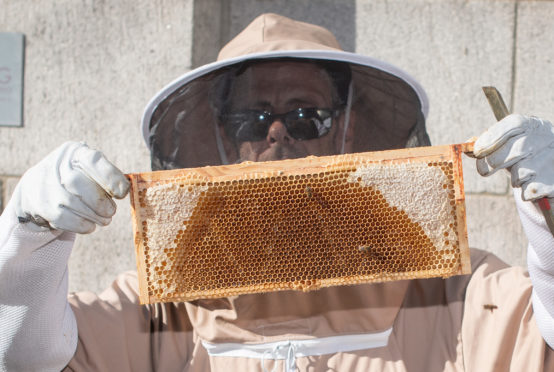 Recovering addicts have talked about how looking after bees on the roof of one of Aberdeen's most iconic buildings has helped keep them on the straight and narrow.
Aberdeen Inspired introduced the hive at His Majesty's Theatre last year after establishing a partnership with Alcohol and Drugs Action.
A core Bee Team have earned their stripes by tending to the apiary, on the rooftop outside the 1906 restaurant upstairs, every week.
A key member of the group of ADA service users, Graham, has been involved with the award-winning project from the beginning.
He said: "It has been really good for my recovery personally and has kept me out of trouble.
"This has given me the chance to give back something to the city by instructing newer members of the team and I take a lot enjoyment from that."
The volunteers, working alongside Aberdeen Inspired, have been advised by the chairman of Aberdeen And District Beekeepers' Association David Morland.
However, the group's first year has not been without challenges.
Aberdeen Inspired originally set up two hives, one at HMT and another in the George Street area, but the latter never made it through the cold north-east winter.
Wet weather this summer has meant a significantly poorer yield of honey from the HMT hive compared to last year.
And that is not to mention somewhat more painful lessons for the fledgling beekeepers – such as wearing the right protective gear.
It was during the grand launch of the project, abuzz with photographers and TV cameras, that Graham received a painful lesson.
He said: "The first time, I got stung intensely and I felt I had to pretend that nothing was happening because HMT was mobbed.
"My hands were swelling up and I was going like The Incredible Hulk under my suit – but soon afterwards, we got proper gloves."
ADA's volunteer coordinator Anne McAlister praised the opportunity to do something "completely different".
She said: "The project has been a good way to build up their confidence and sense of responsibility because the bees need them."
Aberdeen Inspired's chief executive, Adrian Watson, added: "We are proud of the biodiversity our honeybees bring to the busy and bustling environment that is the business improvement district.
"We are equally pleased with the therapeutic benefits we've heard anecdotally from Aberdeen Alcohol and Drugs Action service users who make up the Bee Team."