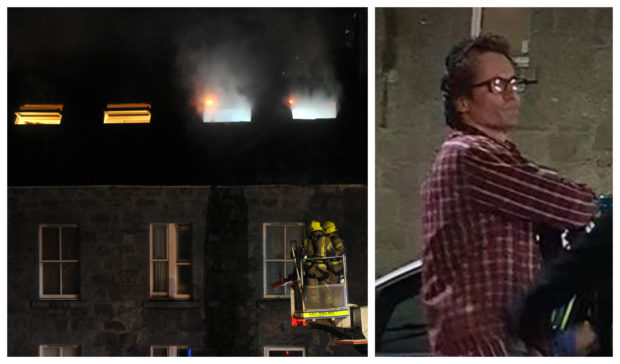 A man who caused £400,000 worth of damage after setting a fire in his flat has been jailed for more than three years.
Stefan Kubina set fire to a guitar at his home in Richmond Walk, Aberdeen earlier this year.
As flames spread throughout the third floor flat, he left – without warning his neighbours of the danger they were in.
Five fire crews tackled the blaze and three buildings were evacuated.
Eight months on, his neighbours have still not been allowed to move back in.
Kubina was caught after telling a police officer at Aberdeen Railway Station that he needed to get to Glasgow because his flat was on fire.
VIDEO: Blaze destroys Aberdeen flat and leaves neighbours homeless
Aberdeen Sheriff Court heard yesterday that the 34-year-old had been taking drugs when he set the guitar on fire as he believed it was "talking to him".
Solicitor Stuart Beveridge said: "He was suffering hallucinations at the time which was down to drugs.
"He opened a window to allow smoke to exit but that turned the flat into a chimney.
"He is very sorry for the effect it had on his neighbours and is relieved they were evacuated safely."
Fiscal depute Felicity Merson told the court the fire on February 12 had caused nearly £400,000 worth of damage.
The blaze severely damaged Kubina's living room, and burned through to the flat below.
Other residents of the block have still not been allowed to move back in, and were given just 30 minutes to collect their belongings.
Mrs Merson revealed the £385,056 total excluded insurance costs for residents and the loss of rent incomes for landlords in the building.
She added: "At the railway station he approached British Transport Police and told them he needed to get to Glasgow because his house was on fire.
"He smelled strongly of smoke."
A witness had earlier taken a photo of Kubina walking away from the block with soot on his face.
The court was told Kubina was taken to Kittybrewster Police Station where he admitted burning down his flat and that he had been drinking and taking speed.
Sheriff Morag McLaughlin backdated Kubina's 45 month sentence to February 13, when he was first remanded in custody.
She said: "This is obviously a very serious matter, there were five people in the building.
"Perhaps it was good fortune they escaped uninjured."
Kubina, listed a prisoner of HMP Perth, was also jailed for five months for threatening behaviour at Aberdeen Central Library and The Caledonian Hotel in Union Terrace and endangering the public by throwing a guitar and amplifier out his top floor flat the month before the fire. The sentences will run concurrently.