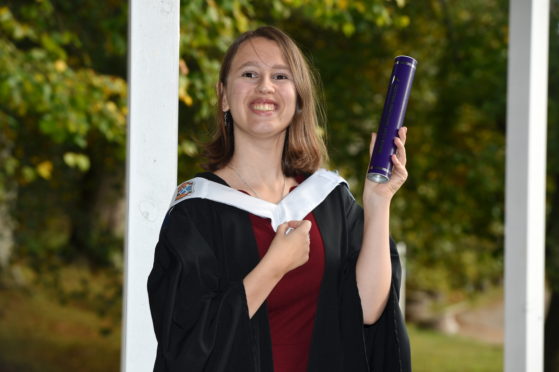 The daughter of a college lecturer is following in her mother's footsteps after graduating with a HND in creative industries and TV.
Alix Jamieson, from Aberdeen, began her love affair with the subject after her mum, acting and performance lecturer Vicki Jamieson, gave her sets of audio tapes as a child – which the budding director went on to memorise and perform.
The 20-year-old, who graduated from North East Scotland College yesterday, said: "Ever since then, I have wanted to be a writer and a director.
"I took to filming my own home movies parodying films I had watched."
The budding director has since won an award for her 10-minute mockumentary on the Beast of Buchan from the Belmont Filmhouse in Aberdeen.
The Beast of Buchan, a phantom cat which prowls the countryside, has been a mainstay in Aberdeenshire folklore since the 1930s.
Miss Jamieson added: "Film has always been an escape for me.
"At school I was always quite an anxious person but, after studying film, something that I have always loved, I have been able to grow as a person."
The filmmaker is now taking her love of film to Edinburgh, where she will be studying further at Queen Margaret's University to take her next step into production and performing.
She added: "I'm excited to get the chance to produce films that mirror real life and perhaps explore things that I am passionate about, such as telling people's stories and wildlife conservation."