VIDEO: Hundreds line Aberdeen street to raise mental health awareness
More than 100 people took to one of Aberdeen's busiest streets last night to join hands and raise awareness of mental health.
Support group Man Chat organised the event in Belmont Street to make a statement ahead of World Mental Health Day today.
Originally, they had hoped to form a human chain around Union Terrace Gardens – a site associated with suicide in the city.
But multi-million work to refurbish the area – including an improved safety barrier on Union Bridge – meant that was impossible.
Instead, the group marched hand in hand along the street, which was busy with revellers visiting nightspots along it, before observing a minute of silence.
Man Chat founder Wray Thomson said he was "absolutely blown away" by the turnout.
He said: "To have more than 100 show support was pretty overwhelming.
"For some people, maybe they have lost someone to suicide and to spread the word is them doing their part.
"It is something small but it can mean a lot to someone else."
One of those who joined Mr Thomson's march was Gary Wilson, who said Man Chat was "amazing".
"I was going through a really tough time and this has helped me open up and get professional help too," the 30-year-old added.
"It was absolutely incredible to see the number of people who came to support it."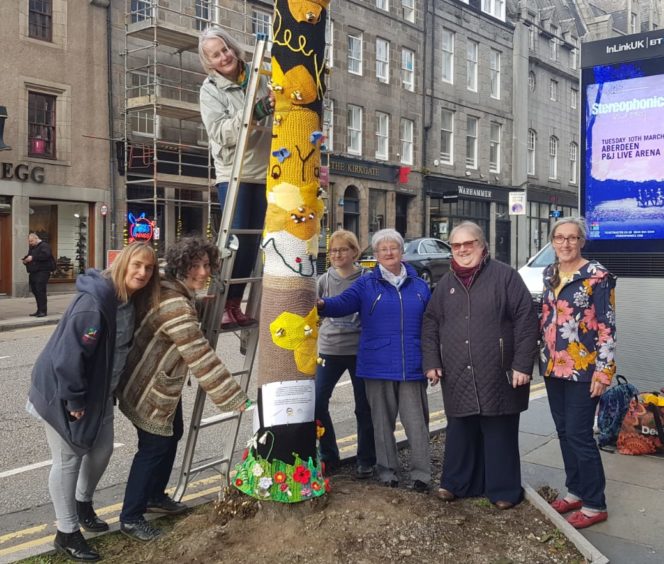 Elsewhere in the city, mental health volunteers "yarn-bombed" a tree in Upperkirkgate, near Marischal Square.
The brightly-coloured knitted design, which took around three months to finish, is adorned with the slogan "be kind to your mind".
It includes contact details for a number of mental health charities and addiction support services, including Mental Health Aberdeen, Alcohol and Drugs Action (ADA) and Substance Bereavement Support Aberdeen.
Aberdeen Inspired's community co-ordinator Angela Joss, who is also involved in the project, said: "We would hope that people realise the importance of looking after their mental health.
"It is something we should all be doing and it is important people know where to go."
ADA's volunteer coordinator Anne McAlister added: "Already a number of the people went past and just smiled as we were putting it up.
"People are becoming more aware of they need to speak about mental health."