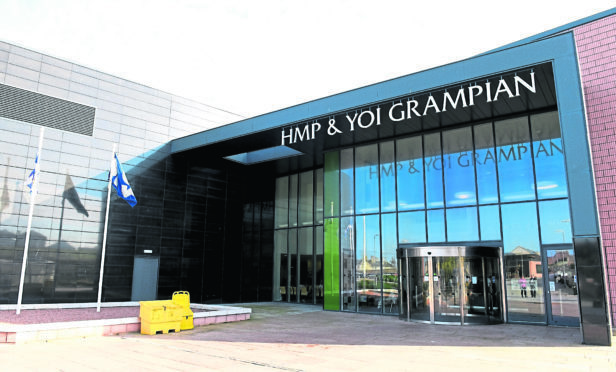 A guard at HMP Grampian was forced to give up his 15-year career after a violent attack from an inmate once dubbed Scotland's most dangerous prisoner.
Robbie Christie relived the horrifying ordeal as Ewan MacDonald, from Aberdeen, faced a string of charges relating to violence at jails across Scotland.
Other prison officers and inmates were attacked by the 26 year-old, who used a sharpened toilet brush handle as a weapon.
MacDonald, who is now in the State Hospital at Carstairs, was deemed unfit to stand trial but a hearing looking at the circumstances of the case – known as an examination of facts – took place over four days at the High Court in Glasgow.
He faced 13 charges, including attempted murder, relating to attacks that occurred at Shotts, Grampian, Low Moss and Perth jails between July 2017 and March 2018.
Mr Christie, who had been a guard at HMP Grampian in August 2017, told how MacDonald had only been there for a few days when he launched an attack on officers.
The court heard MacDonald "slashed and stabbed" at the staff and Mr Christie was struck as he tried to intervene.
He said: "At the time, I did not know what I had been hit with."
But the court was told MacDonald had a broken radio aerial and a toilet brush handle, both of which had been sharpened.
Two of Mr Christie's colleagues were also attacked.
He said of his own ordeal: "Every time I was hit, it was puncturing my body. The incident was a big blur. The blood was in my eyes.
"I have never been back to the prison since. I have been seeing a psychologist since a few months after the incident.
"I have been at a rehab course to try and help with the effects.
"Since then I have been diagnosed with post traumatic stress disorder. At the time, I had been an officer for 15 years."
MacDonald had been charged with assaulting the three officers to their injury, permanent disfigurement and danger of life.
He was also charged with the attempted murders of fellow inmates at high security Shotts.
One of them, 34-year-old George McKenzie, told how he needed a six-hour operation and "hundreds" of stitches after being attacked with a blade.
MacDonald was flanked each day in the dock by five security guards and a nurse.
After hearing evidence, judge Lady Stacey said she found MacDonald "carried out the acts" in 11 of the charges.
He was acquitted of trying to kill a prison officer and seriously assaulting another at HMP Perth.
MacDonald was previously jailed for attempted murder in 2016 and has spent time in solitary confinement.
The court was told MacDonald is now said to suffer from a "delusional illness".
The case has now been adjourned until December for medical reports.