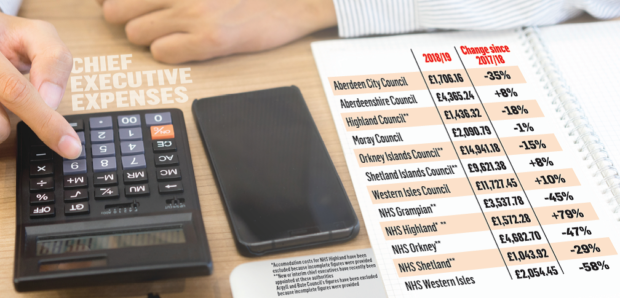 The top council and NHS officials in the north and north-east slashed their total expenses bill by more than £11,000 last year.
Data released to The Press and Journal shows the sum claimed by the public sector chief executives in the area fell by 16% between 2017/18 and 2018/19.
The combined spending on hotels, travel and food dropped from £70,109 to £58,779, according to figures provided under freedom of information (FOI) laws.
Last year, the P&J highlighted a rise in the amount claimed in expenses by the bosses of several of the budget-cutting authorities, including Orkney Islands Council (OIC) chief executive Alistair Buchan.
New figures now show that while the Orkney council's £14,941 expenses bill remained the highest of the 12 chief executives, it fell by £2,605.
Major year-on-year reductions were also reported by several other bodies, including a drop of £4,100 at NHS Orkney, a fall of about £2,900 at both NHS Grampian and NHS Western Islesm and a cut of £920 at Aberdeen City Council.
Small increases in expense claims were recorded by the chief executives of Aberdeenshire Council, Shetland Islands Council and Western Isles Council, as well as NHS Highland, although its data was incomplete.
But the larger reductions at other organisations meant that the total bill was cut by £11,330.
Peter Chapman, North East Scottish Conservative MSP, said: "Chief executive roles are high-pressure jobs which require a great deal of travel and operational oversight.
"The buck stops with them to deliver multi-million pound savings every year.
"Our health boards and councils are toiling to meet Scottish Government cuts while doing their jobs.
"So I welcome this general decrease in expenses, but would argue you can only cut back so far before it damages public services."
By far the highest expenses bills were recorded by the chief executives of the three island councils, who have to travel further and stay overnight more regularly than their mainland counterparts.
In total, the bosses of the local authorities on the Western Isles, Shetland and Orkney have now spent about £111,000 in the last three years.
The question asked in the FOI request was amended this year so that it covered all spending, including travel and accommodation costs booked through central systems.
Last night, a spokesman for OIC said: "In representing an island community, we face considerably higher costs compared with councils on the Scottish mainland, when travelling to essential business meetings.
"The council has rigorous procedures in place governing expenditure on travel and we consistently strive to reduce our travel costs.
"Alternatives such as video conferencing are always carefully considered before travel outwith Orkney takes place – and are used frequently.
"But there are times when it is important for the council to be represented at meetings elsewhere when matters affecting Orkney are under discussion.
"Face-to-face lobbying has been needed in recent years at a time when Government funding for local authorities has reduced significantly – to help mitigate the impact on our community."
An Aberdeenshire Council spokeswoman said: "The chief executive represents Aberdeenshire Council at key events and meetings across the country, as well as across the wide geographic area of Aberdeenshire itself.
"The council's own travel team will always seek the most economic form of travel, with all journeys purchased at standard or economy class rates."
The expenses figures have emerged after a period of upheaval at the top of several of the leading public sector organisations in the region.
Donna Manson replaced Steve Barron as Highland Council chief executive in November last year, while Maggie Sandison took the reins at Shetland Islands Council in February last year, and John Mundell has been interim boss at OIC since June.
Malcolm Wright retired from the top job at NHS Grampian last year, being replaced by Amanda Croft, while Gerry O'Brien became chief executive at NHS Orkney last year.
Iain Stewart succeeded Elaine Mead at NHS Highland in January this year, and Ralph Roberts left NHS Shetland in the spring.