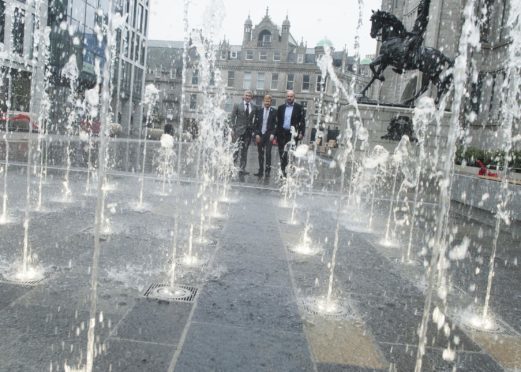 A new fountain in Aberdeen city centre has been turned off after "unacceptable" chemical levels were discovered in the water.
Local authority workers found that the readings for bromine, an agent used to help disinfect the water, were "outwith the recommended parameters" on the Broad Street feature.
Bromine can cause irritation and burns if its liquid form makes contact with skin in high quantities.
The fountain, which is "very popular with children", was immediately turned off over the weekend and a further inspection is due to be carried out today.
Last night, an opposition councillor called for an investigation into the matter to ensure the same thing does not happen again.
Liberal Democrat infrastructure spokesman, Steve Delaney, said: "We can't risk public safety."
Opened last October as the centrepiece of a massive £3.2 million pedestrianisation project on the street, the fountain produces "dancing" jets of water in different patterns.
Internal correspondence sent out on Friday, which has been seen by the P&J, said the daily inspection of the fountain had found the chemical readings – and that new parts were to be fitted.
An email states: "During the daily inspections of the Broad Street water feature, it was identified that the water chemical readings were outwith the recommended parameters.
"On investigation it was identified that part of the bromine (water disinfectant) probe was in need of replacement.
"At the moment the bromine levels are still outwith the recommended levels and will only reduce with time.
"With this in mind, the period of time required to allow the probe to settle and it being the weekend, I have switched the fountains off for the weekend to allow the settling in period and for the bromine levels to drop to within the recommended parameters."
Mr Delaney last night welcomed the prompt action taken to switch off the water.
He said: "I think it is fair to say that safety must always come first, it is concerning an issue has been identified so soon after it opened.
"The fountain is very popular, especially with young children, so I would expect the council to investigate as a matter of urgency what has happened and what needs to be done to ensure it doesn't happen again."
SNP George Street and Harbour ward councillor, Michael Hutchison, said: "While the situation isn't ideal, it should at least reassure people that the tests are working.
"The fountains have been very popular since they've been installed and I expect people will be looking forward to seeing them working again soon."
Vice convenor of city growth and resources, Ross Grant, said: "The delivery of the dancing fountains was a key feature of the Broad Street redevelopment.
"Clearly, as part of this, a robust operation and maintenance regime is in place to ensure that the public can make best use of it – and I'm pleased to see that when put to the test, said regime is working.
"That will mean that the fountain should be back in operation within the coming days."