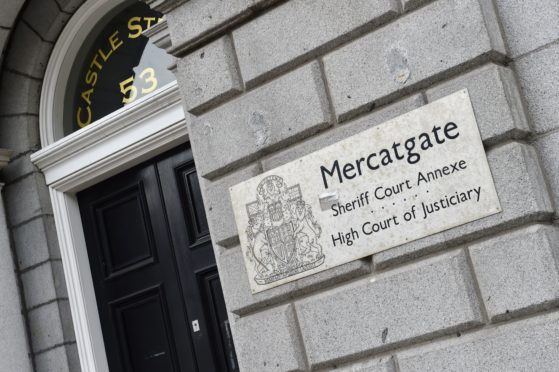 A woman has described the moment she saw man being thrown up in the air "like a rag doll" after being hit by a car in Aberdeen.
Michael Scott is on trial at the High Court in Aberdeen, accused of attempting to murder Graeme Hardie by knocking him down with his car in Bucksburn.
The 35-year-old denies the charge, and the allegation that he drove dangerously at speed and on the wrong side of the road.
Yesterday, witness Teresa Shand, who lived in Old Meldrum Road, said the pair had come to her attention as they were causing a "commotion" outside of The Staging Post pub.
Under cross-examination the 48-year-old said, after an altercation in the street, a man had got into the driver's seat of a car carrying a pint of beer.
Ms Shand said: "He just waited outside The Staging Post – half-on and half-off the pavement on the wrong side of the road.
"(Mr Hardie) stood in the middle of Old Meldrum Road looking for the guy in the car, I can only assume, and turned to walk back towards the pub.
"Then the car's engine was revved and it went for him. It sped off the pavement, on to the road and went into him.
"He went up like a rag doll."
Mrs Shand told the court that she raced to help Mr Hardie, and "thought he was dead".
The court heard Mr Hardie will need round-the-clock care for the rest of his life.
Other witnesses who had been in The Staging Post on July 11 last year said Scott had argued with Mr Hardie and his friend over England's World Cup semi-final against Croatia in the pub.
The jury of nine women and six men was shown CCTV footage of the verbal argument before Scott was asked to leave the premises, as well as exchanges in the street where Mr Hardie was being held back from Scott by a family friend.
The pair had been in the bar for hours, firstly to attend Mr Hardie's brother's wake, the court was told.
Teresa Watson, who had been sitting next to Scott in the pub after meeting him that evening, told the court he "just sat" and "sort of laughed" when Mr Hardie came up demanding he go outside to continue the argument.
She added Scott had apologised when he heard Mr Hardie had spent the day at the funeral of his brother and left the premises without protest – only taking his pint – when asked to do so.
Scott, of Rosslyn Avenue in Sunderland, denies all six charges, which also include acting in a threatening and abusive manner, threatening officers as they transported him to the Kittybrewster police station, making himself sick and urinating in the back of their car and failing to provide a breath sample for alcohol testing.
The trial, in front of Lord Uist, continues.