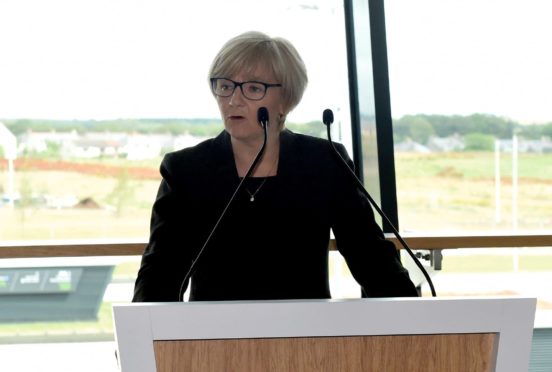 Aberdeen council's co-leader has said introducing a tourist tax in the city is vital if services are to be protected.
The Granite City authority is one of a number across the country that has called for the introduction of a transient visitor levy (TVL).
Under the scheme, councils could impose a rule that hotels have to charge an extra £1 or more per visitor per night – and then collect the cash.
Holyrood is looking to give the power to councils, with a consultation ending on December 2. Results are expected next year.
In 2017, Aberdeen officials estimated introducing the levy could net about £1.7 million a year for the council – which this year had to trim more than £40 million from its spending.
Council co-leader Jenny Laing said: "We have argued for a long time that there should be a further devolution of powers to local government and the levy would form an important part of that.
"These powers are imperative.
"At the moment it looks like the power would be granted from 2021 and we would look to implement it and ringfence any takings into improving all aspects of the city to attract more visitors and benefit the hospitality sector."
Mrs Laing added: "The financial constraints on councils are becoming worse and worse each year and without more powers then we can't deliver the services that people expect.
"We have been talking about the levy for four years, since our statement around the city region deal, and we have been speaking with the hospitality sector in the city all that time.
"Having travelled around various places in Europe with the levy, I really don't feel it would put off travellers from visiting.
"I think what attracts people anywhere is what that place has to offer and I think with everything that is coming to Aberdeen they won't mind paying £1 extra."
But opposition Liberal Democrat group leader Ian Yuill said he was in two minds about whether Aberdeen should introduce the levy.
He said: "My personal view is that councils should have the ability to introduce the levy but it is a completely different issue on whether Aberdeen should.
"I'm yet to be convinced of the merits of the levy in the city. We would have to see the state of the city's economy at the time.
"Given there is lower hotel occupancy just now and we are aiming to attract visitors, it remains to be seen whether it should be introduced."
SNP group leader Stephen Flynn said: "It's my understanding that the number of hotel rooms in and around the city has increased while, at the same time, the cost of a night's stay has dropped.
"This therefore isn't just about securing extra income for the council, it's about ensuring that existing businesses aren't impacted by an additional charge they will likely be responsible for collecting.
"The administration need to listen to existing businesses and take a pragmatic approach – not just say that because something works in Rome it will work in Aberdeen."
'Unprecedented challenges'
While council leaders across Scotland have generally welcomed the idea of devolving the powers, the tourism trade itself has had concerns.
Last week Highland business leaders widely rejected the plans, which would mean £1 or more could be added per night to the average hotel stay.
Citing "unprecedented challenges" and fears over business, three influential chambers of commerce, representing 820 Highland and island companies, have objected to a Highland Council consultation on the introduction of a £5-10 million Transient Visitor Levy (TVL).
Inverness, Caithness and Lochaber chambers said they strongly opposed the introduction of a tourist tax saying the plan could make the Highlands more expensive than anywhere else in Scotland to visit.
Andrew Martin, a senior lecturer at Robert Gordon University, vice-chairman of the Aberdeen City and Shire Hotels Association and director of the Scottish Centre of Tourism, said while individual visitors may not mind the additional pound, it could add up for mass business bookings.
He said: "The first thing that upsets me is the idea that the TVL could be used as a substitute for other council funding.
"In places where this has worked, the cities have always reinvested the money back into ways of boosting the local tourism industry and we would expect the same here.
"In the city our demand side has softened while our supply side has increased and economically that is not the best position to be in.
"For visitors the extra £1 might not make a difference but when you look at business travellers, it could prove a factor in firms choosing venues.
"Another worry is that the burden of collection would fall on the hotels, they may then pass on these costs to staff, and along with VAT and non-domestic rates it is another thing for hoteliers to keep a track of."