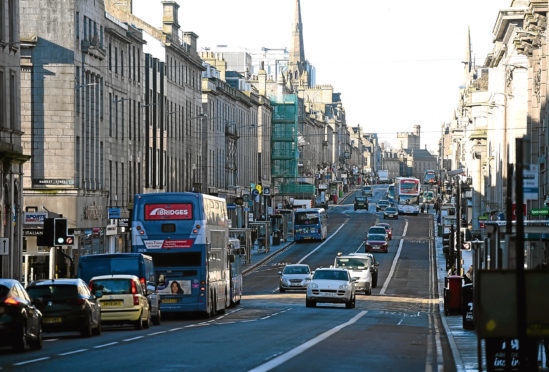 A tourist has penned a damning letter to council bosses in Aberdeen over the state of pavements in the city centre.
Carol Brown visited the Granite City for four days earlier this month.
The 69-year-old, who lives near Lyon, was "absolutely shocked" at "cracked and uneven paving stones" in Union Street.
The Edinburgh native's mobility is limited after suffering a stroke earlier this year.
She and husband Raymond, 75, had chosen to stay at a Holiday Inn Chapel Street to have easy access to the city centre.
But they were stunned by the "dangerous" state of the walkways as they took in the city's main sights, including Marischal College.
In a letter to the city council, Ms Brown said: "I was absolutely shocked at the state of the pavements in Union Street – cracked and uneven paving stones as well as raised areas.
Hundreds of gravestones in need of repair as Aberdeen City Council bumps up burial costs
"I had never been anywhere with so many pedestrians using walking aids – it is no wonder.
"Alas, I will not be returning to the city any time in the near future as it is so dangerous."
Ms Brown's experience was backed up by charity Aberdeen Action on Disability.
A spokesman said some streets in city centre "left a lot to be desired".
The importance of tourism to the north-east has increased in recent years, with much more being done to encourage visitors to Aberdeen and Aberdeenshire.
An Aberdeen City Council spokeswoman said: "We are sorry Ms Brown felt that way about her visit, however we currently inspect the condition of the pavements, and repair them, in accordance with our inspection and repair policies.
"Our budgets for inspection and repair of pavements comes out of our revenue funds which in turn are allocated from the annual grant given to local authorities from the Scottish Government."