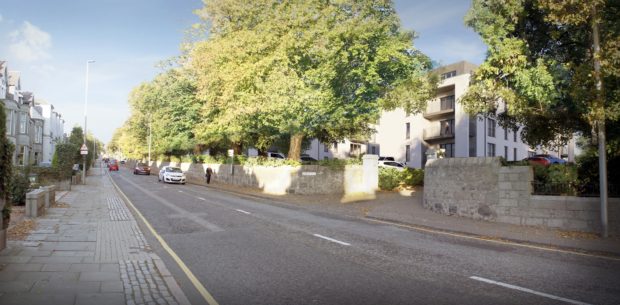 Controversial plans to turn a former Aberdeen care home into more than 40 flats have been withdrawn at the 11th hour.
Cala Homes (North) and charity the VSA were to present their vision for 41 flats over four floors at the Forrest Grove site on King's Gate to the council's planning committee yesterday.
However, the plans were pulled and councillors did not debate the scheme. They are likely to return, in an amended form, at a later date.
The proposals had proved contentious among some in the Midstocket community, with 31 objections received by the council.
Concerns raised include a lack of school places for new residents, an increase in traffic in the area and the potential loss of trees.
Last night Cala bosses said they would speak with partners on the plans and were considering a "future submission" for the site.
Mike Naysmith, Managing Director of CALA Homes (North), said: "We remain confident that our proposal alongside VSA stood the tests set out in planning policy.
"However given the points raised in the planning officer's report to the planning committee, not all of which we agreed with, we acknowledge that our proposal would benefit from further consideration with key stakeholders and as such we have withdrawn the application.
"We will now seek to discuss design principles with Aberdeen City Council before considering a future submission."
The plans were previously altered with earlier incarnation featuring 49 flats and a five-storey build.