Hordes of rats are overrunning a historic graveyard in the centre of Aberdeen.
The creatures have been spotted scurrying across the ground and nesting among graves at the St Nicholas Cemetery.
It is understood that the council has previously laid poison to get rid of the vermin, but they have now come back in even greater numbers.
A spokesman for the local authority said the kirkyard was now being "treated" until a "satisfactory outcome" is achieved, but would not comment on the method of pest control being used.
One concerned man said he saw numerous rats rush out from under a bin at the gate on Union Street, and voiced concerns that the animals were being drawn to the city centre spot due to the number of fast food outlets nearby and waste being left behind.
He said: "I was shocked at the number of rats I saw, there must have been more than 20 of them.
"I was just walking past and a man pointed them out to me.
"It was about 7.30pm. I didn't think they came out at that time, but there they were all running about."
A Press and Journal photographer later attended at the graveyard and captured images of several large rats at various points all over the site.
There was a multitude of them next to the bins at the Union Street entrance, and several were seen burrowing under headstones.
The animals could be seen crawling into tombs and heard scratching about inside.
One source said they had seen "heaps" of rats in the graveyard.
He said: "They have been poisoned before, and now they're back – it's a big issue.
"I know that other graveyards don't have the same problem."
He added: "You wouldn't want to come to a cemetery and see rats running around.
"They've got these nice new benches, and it's right in the centre of town. You want to keep this place maintained."
Dustin Macdonald, chairman of the City Centre Community Council, last night called for action to be taken to eradicate the problem.
He said: "Obviously measures need to be put in place to control it.
"In terms of vermin, animals like rats will always be all over the place, wherever you go.
"But when the public are starting to notice it, then something needs to be done to look into it."
Pauline Gerrard runs the Guardians of Aberdeen's Graveyards social media site, and helps arrange visits to cemeteries to research and maintain the sites.
Last night, she said she was aware of rodent problems existing in the past, but said she was "confident" the council would take swift action to deal with the problem.
She added: "It is quite scary for folk if they do see one."
An Aberdeen City Council spokesman confirmed that officers were aware of the issue.
He said: "Aberdeen City Council's pest control team has carried out investigations and will continue to treat the area until a satisfactory outcome is achieved."
The church has been a site of worship since 1157, but the "Mither Kirk" was enlarged in the 15th century and became one of the largest churches in Scotland at that time.
The graveyard has become a final resting place for some of the city's most well-respected figures.
Peterhead-born William Penny, one of the leading advocates for steam power, former Lord Provost Sir Alexander Armstrong, renowned economist Robert Hamilton and Sie George Skene of Fintray and Rubislaw are all buried there.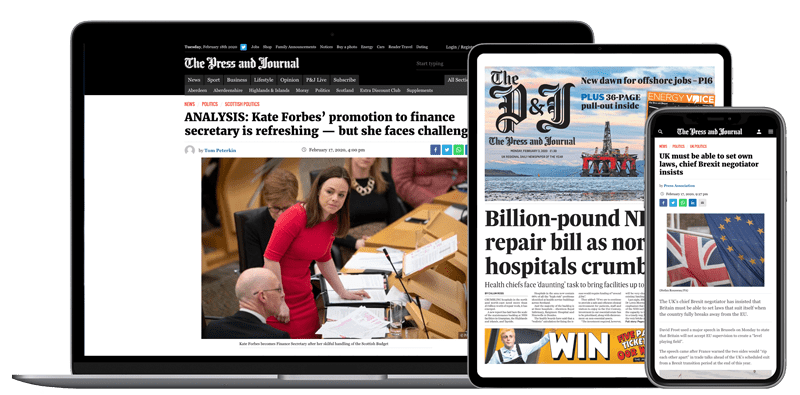 Help support quality local journalism … become a digital subscriber to The Press and Journal
For as little as £5.99 a month you can access all of our content, including Premium articles.
Subscribe