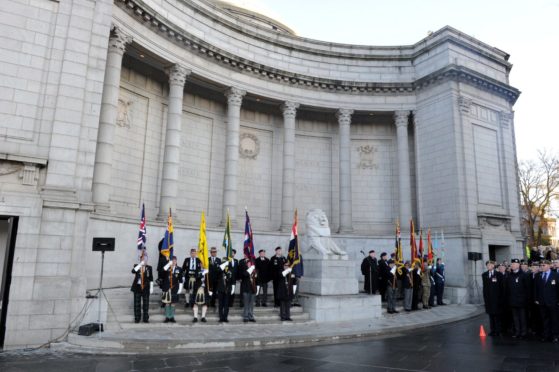 A hush fell over the centre of Aberdeen as thousands turned out to pay their respects on Remembrance Sunday.
People of all ages came together at Schoolhill for a ceremony remembering those killed or wounded fighting in conflicts for their country.
Members of the armed forces both past and present were joined by reserves and cadets, community groups, politicians to take part in the service.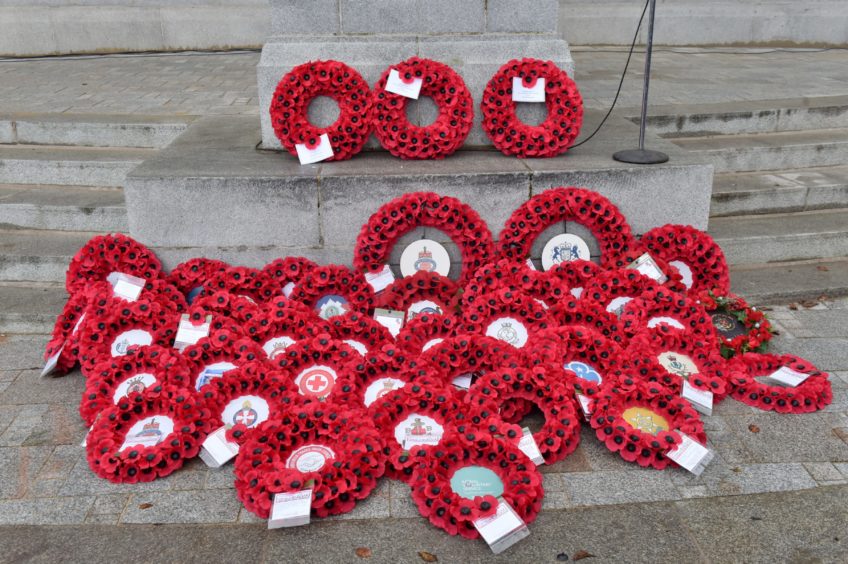 Workers downed their tools at the nearby Triple Kirks development as veterans dipped their flags to pay tribute to their fallen friends.
Reverend Iain Thomson opened the proceedings at the war memorial with the Lord's Prayer followed by words of gratitude.
He said: "We remember those who laid down their lives for their country.
"We remember their service today, we will remember that each poppy represents a person, a person with a name."
Following a poignant Last Post, two minutes of respectfully observed silence and the Piper's Lament, wreaths were laid at the foot of the memorial, led by Lord Provost Barney Crockett.
Mr Crockett said: "Remembrance Sunday is an important opportunity to pause, reflect and to mark the sacrifices made by so many during times of conflict."
Many of those who attended then visited the Kirk of St Nicholas for a church service.
Others in the crowd stayed behind to swap stories and remember those who had been lost in their own way.
North East MSP Lewis Macdonald said: "Aberdeen was among the worst in Scotland hit during the bombings in the Second World War, it is important we remember all those who were lost including the civilians of the city."
John Cambell who served as a Captain in the Merchant Navy back in 1953, said: "It is important to remember those who have been lost, and to make sure the tragedies of both wars never happen again."
Meanwhile, Harvey Grainger, who is an Aberdeen Royal Signals veteran, was part of a 20-strong group of veterans marching for charity Scottish War Blinded in London.
The 83 year-old said: "Taking part in the parade was an absolute privilege. I have watched it for many years on the TV and didn't think I would ever get to attend in person."
Following his service, he went on to a career as a photographer for The Press & Journal, before moving into TV work.