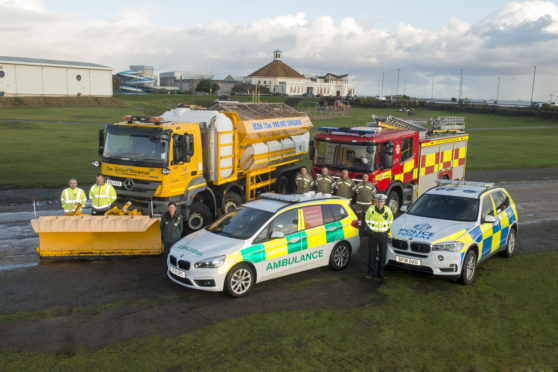 Aberdeen's emergency services and the City Council have joined forces warning people to 'be prepared' for winter weather conditions.
Residents are asked to first of all consider whether their journey is necessary and to have a 'plan B' if possible such as working from home in particularly bad conditions.
The safety message also includes checking weather forecasts before going out in a car or on foot, wearing appropriate winter clothing, ensuring vehicles are safe to drive in hazardous conditions, and be neighbourly and check on older or more vulnerable neighbours.
Early morning and standby gritting operations start today and will run through to mid-March depending on the conditions.
Aberdeen City Council Chief Operating Officer Rob Polkinghorne said: "Our early morning gritter drivers are usually driving to work themselves on untreated roads before they start work at 4.45am to ensure the main roads are gritted for most people as they start their day.
"Almost half of Aberdeen's roads will be treated before 7.30am under the plans, with 590 miles of roads in the city – more than the distance from Aberdeen to London.
"We ask residents to be prepared themselves by carrying out journey planning and keeping a close check on weather forecasts."
Road Policing Inspector Steve Manson said: "As we approach the winter period, it's crucial that everyone recognises the need to prepare for the severe weather that we can experience in the north-east. Planning in advance and taking some simple precautions will reduce the risk of breakdowns and collisions, ensuring a safe winter for everyone.
"I would encourage motorists to make sure their vehicle is suitably prepared for the roads. Check that your brakes, tyres, lights, batteries, wiper blades and fluids are all in good condition and well maintained. Before setting off, make sure your windows are clean, properly demisted and clear of all snow and ice before you drive. You should also ensure your roof is clear of snow as this can affect drivers behind you and can also cause obstructions on your windscreen when braking."
The Scottish Ambulance Service asked people to dress appropriately for winter weather, stock up on essential medicines, and only call 999 in an emergency.
Euan Esslemont, the Scottish Ambulance Service's Head of Services for the North Region (Grampian), said: "Winter is an extremely busy time of year for us and we're working closely with Aberdeen City Council, our health board partners and emergency service colleagues to manage increased pressures during this time.
"If you are out celebrating during this period, please dress appropriately for cold weather, have a plan for getting home safely, and be considerate – look after yourself and consider the impact your actions may have on others."
The Scottish Fire and Rescue Service asked residents to ensure they are as safe as they can be.
Bruce Farquharson, Local Senior Officer for Aberdeen City, said: "Fundamentally, if we get severe winter weather conditions then communities need to consider whether their journey is absolutely essential.
"If it's felt that it is, then please put in place sufficient provisions – ensure you have a full tank of fuel, a fully-charged mobile phone, warm clothing, a small shovel and some food and water."