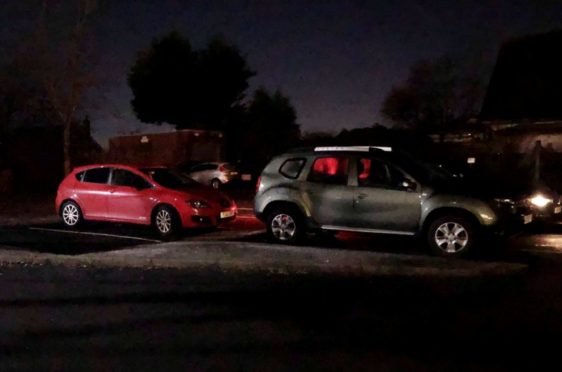 An underlit Aberdeen car park is being blamed by angry residents for a catalogue of trips and falls.
Dyce Community Council have been moved to raised fears for the safety of residents due to the ongoing issues at the local community centre.
Members said the dim lighting was an "accident waiting to happen" with the dark nights and winter weather coming in.
The issues have arisen since the refurbishment of Dyce Community Centre last year, with the entrance moved as part of the work.
The car park on Gordon Terrace is now at the front of the centre – the easiest place to park to access the reception.
But there have been numerous reports of people tripping and falling in the car park because it is so dark.
Margory D'Arcy Chair of the Dyce and Stoneywood Community Association described it as a "major issue".
"As the nights have gotten darker, people have been commenting on it.
"It's not acceptable and I personally think it is a health and safety issue.
"I know a couple of people have tripped and hurt themselves. Other people are very reluctant to use it.
"I drive the community mini bus and it's very hard to drive it into the car park because it's too dark."
Residents first started complaining to councillor Avril MacKenzie in the spring and she said she'd raised the issue with the council in April.
"I've been in contact with the council and they said they'll get on to it but we're still waiting" she said.
"It will take money to make the improvements needed.
"It's a very popular centre for all ages and there are a lot of grandparents dropping kids off. The men's shed is also based there.
"People have fallen simply because it is so dark."
Fellow Dyce councillor, Neil MacGregor, added: "The car-park on Gordon Terrace is used by parents for the primary school and those using the community centre, but the adjacent Carden School is still an opportunity site in the Local Plan and this car-park would probably be part of whatever replaces it.
"In the meantime, we need adequate lighting to keep people safe. Unfortunately, the council administration parties voted to cut spending on lighting."
The Community Council said residents were told earlier this year that new lighting was to be introduced at the car park.
Part of a council correspondence on the issue read "The intention is that it be included in a further programme of work."
A city council spokesman said: "We are aware of the issues raised by the community council and following initial background work we have a costing for the lighting installations at the car park and entrance. Our intention is to the undertake work in a further programme of works following consultation with the local community."