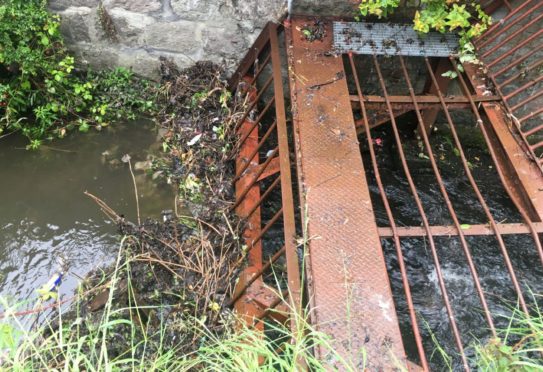 People living near an Aberdeen burn are being urged to do their bit to prevent it from flooding.
The Den Burn has repeatedly flooded in recent years, prompting the council to develop a flood prevention scheme in 2014.
Now the city council is reminding those who live nearby that the maintenance of the walls in the burn are their responsibility, while urging them not to dump anything in the water.
During heavy rainfall last month, council staff were called out to the burn and found the trash screens along the burn were blocked with saw-cut branches and garden refuse.
This increases the risk of flooding.
Letters have now been sent out reminding residents of their responsibilities as landowners.
A council spokeswoman said: "Our staff work extremely hard when there's heavy rain to try to ensure properties won't flood however there are steps residents can take to help their neighbours further downstream.
"The trash screens are there to stop debris from collecting in the middle of tunnels as it would be too dangerous to clean them out during fast-flowing heavy rainfall.
"However, the trash screens can get blocked quickly with branches and other garden refuse which then causes the water to back up, leading to the possibility of flooding in the area.
"We're asking residents along the Den Burn and any of our waterways to think about other people downstream and not throw branches and other garden waste into our rivers and burns."
More than 90 reports of flooding were flagged to the council during the heavy rainfall over October 18 and 19.
Residents potentially affected by flooding can apply for a 50% funded property level protection flood grant to help protect their home.
However the grant only applies to private homes that have been flooded inside before, that are located on a Sepa flood risk map or if they're in an area at risk of flooding shown on the integrated catchment study model.
Households that meet the criteria will receive a grant up to a maximum of £2,500.
Initially, residents can apply for up to £100 to cover the cost of a survey that will determine which type of protection is suitable for the house.