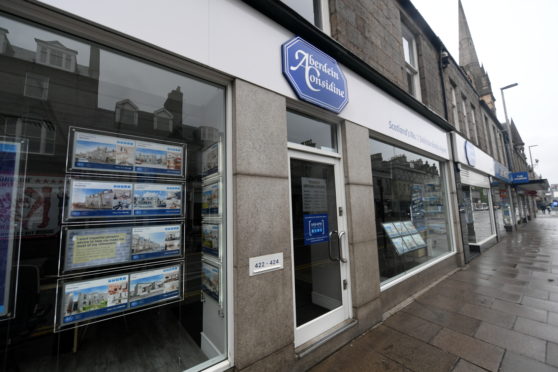 Property experts have said that the north-east has "weathered the worst" of the housing market downturn.
The value of Scotland's property market is on course to top £18 billion for the second consecutive year, despite "increasing anxiety" over Brexit.
And new housing figures from Aberdein Considine reveal that sales in Scotland hit £5.3 billion during the last quarter of 2019, up by £100 million on the same time last year.
More than 28,000 homes changed hands during the quarter, according to the firm's "Property Monitor report," bringing the total value of sales in 2019 to £13.3 billon.
Sales in Aberdeenshire were up 4.1%, and the overall value of property sold in Aberdeen and the Shire hit almost £1.2 billion for the year, up £24 million on last year, with 2,288 properties changing hands.
The average cost of a home in Aberdeenshire was found to remain flat at £215,840, but the value of property changing hands saw an uplift of 4.4% to £255 million.
Despite a 3.3% fall in average prices in Aberdeen, now at £193,141, the city emerged as a new build hotspot.
Revealed: Quickest place to sell a home in Scotland > https://t.co/C5eadq03jy #scotland #propertymarket pic.twitter.com/fGbYoWbsVl

— Aberdein Considine (@AbdnConsidine) October 30, 2019
The average cost of a new build home in Aberdeen was found to be £299,663, with only the Glasgow suburbs of East Renfrewshire and East Dunbartonshire exceeding that figure.
Bob Fraser, senior property partner at Aberdein Considine said; "The market in the north-east is continuing its recovery and it's extremely welcome to see an increase in the number of homes changing hands.
"It definitely feels like we have weathered the worst of the housing market downturn."
Twenty local authority areas saw the value of homes sold rise, with the Western Isles registering the biggest increase, at 24%.
Overall, prices for the whole Highlands and Islands area were up 2.5% year-on-year to
£161,475, though total home sales were down fractionally.
However, the firm's figures come against a backdrop of "increasing anxiety" over the impact the UK's exit from the EU will have on the value of homes.
Political uncertainty blamed for 'slowing' Scotland's housing markethttps://t.co/dWYUVBcYls

— Project Scotland (@projectscot) November 14, 2019
A major poll of homeowners carried out by Aberdein Considine shows that 50% of Scots fear their property will decrease in value after the split.
Jacqueline Law, managing partner at Aberdein Considine said: "There has, over the third quarter of the year, been a sharp increase in the number of Scots who fear that Brexit will result in the value of their home decreasing.
"There is clearly homeowner anxiety around Brexit, but this has yet to be reflected in sales figures, perhaps due to the greater public having little idea what Brexit will actually look like."