More than three-quarters of respondents want to see some form of pedestrianisation on Aberdeen's Union Street, according to a P&J online poll.
Major city retail leaders have called for cars to be banned from the Granite Mile between Market Street and Bridge Street.
The radical proposal, which would leave the stretch open only to busses and bicycles, is intended to improve footfall and save businesses on the beleaguered street.
But while a plan to pedestrianise the street is a key part of the 25-year city centre masterplan – unanimously approved by councillors in 2012 – bosses of the likes of John Lewis, Debenhams, the Bon Accord Centre and Marks and Spencer's say it must happen urgently.
Union Street has suffered from the downturn in oil and gas, with double-digit decreases in footfall – comparably worse than most other cities in the country- and many empty shop units.
READ MORE: Aberdeen retail bosses call for Union Street pedestrianisation
An online poll staged yesterday found the vast majority of respondents would like to see some sort of car ban on the Granite Mile.
As of 5pm last night, 50.27% had said they would like the street to be pedestrianised in its entirety, while 26.25% backed partial pedestrianisation.
A further 21.45% said they did not wish to see any form of car ban, while 2.03% said they were undecided.
Votes had been cast by 937 people.
Major city centres across the UK have implemented pedestrianisation projects.
However with ever decreasing council funding it is unclear if funding from national governments would be required to progress this part of the masterplan.
The partial pedestrianisation of Broad Street, which reopened last year only to buses and bicycles, cost more than £3.2million.
Last night Adrian Watson, chief executive of city centre business body Aberdeen Inspired, reiterated his call for consideration of Union Street's part-pedestrianisation.
He said: "Like elsewhere in the country and further afield, we understand the very real challenges that our retailers, of all persuasions, face on our high street.
"Of late, many of them have said that the positive experience of the now pedestrian-friendly Broad Street is one that ought to be replicated on our main thoroughfare of Union Street, or at least part of it.
"Aberdeen Inspired now plans to extend engagement on this with local businesses and other organisations.
Council co-leader Jenny Laing has said that the local authority would have to ensure all the infrastructure is in place before proceeding with the plan.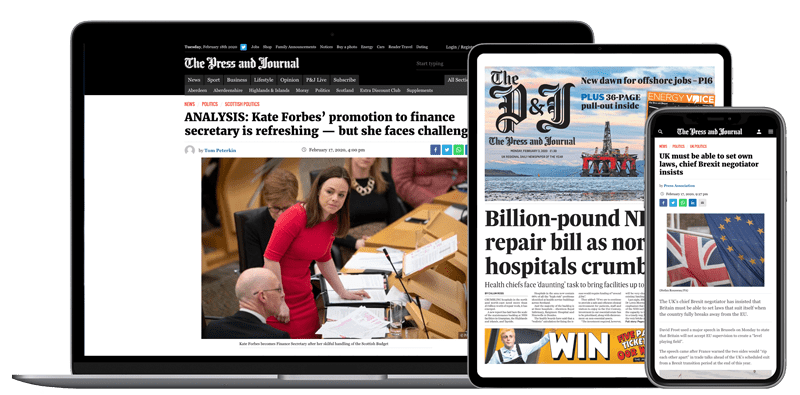 Help support quality local journalism … become a digital subscriber to The Press and Journal
For as little as £5.99 a month you can access all of our content, including Premium articles.
Subscribe