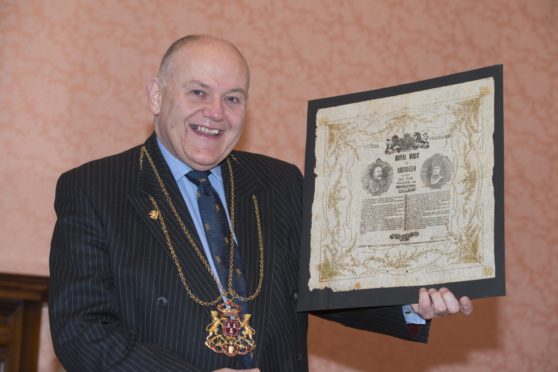 A napkin from 1906 illustrating a visit by King Edward VII and Queen Alexandra to Marischal College has gone on public display at the townhouse in Aberdeen.
Mystery surrounded the paper doily when it turned up in the city in a letter sent from Thailand.
Now archivists have discovered it was a gift from John Duffus in memory of his father, Dr G M Rae Duffus and mother Marjorie, who stayed on Fountainhall Road.
Mr Duffus jun found the framed doily in an antiques shop in Montrose more 40 years ago before beginning a career in the Far East working in Hong Kong, Tokyo and Thailand.
Speaking from his present home in Bangkok, he said: "I was terrified that the doily might get damaged, either when I wrapped it – extremely carefully – or in transit, so I am thrilled it arrived in Aberdeen in one piece and can now be displayed as part of the city's history."
Some 113 years after the royal visit, the treasured napkin has gone on display in the townhouse reception as a new acquisition for the civic collection.
Lord Provost Barney Crockett said: "That such a fragile memento of the royal visit should have survived and made its way back to Aberdeen is a testament to the care shown by Mr Duffus and his enduring affection for his home city."