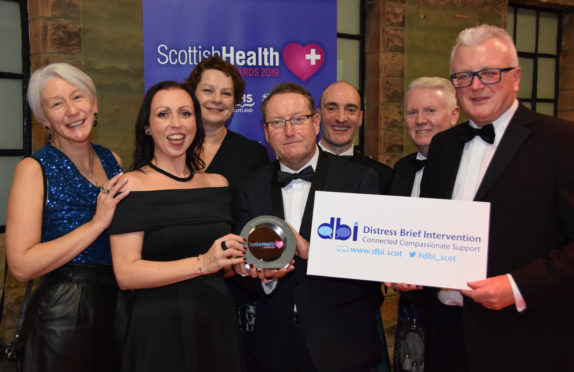 A mental health project in Aberdeen has received a national award for its work in helping "emotionally overwhelmed" city residents.
Front line emergency staff from the police, ambulance and hospital emergency department, in addition to primary care and voluntary workers, were all singled out for praise for their dedication to the Distress Brief Intervention (DBI) programme after it picked up the Care for Mental Health accolade at the Scottish Health Awards.
DBI provides an 'ask once – get help fast' early intervention for people in emotional distress who do not need emergency medical treatment.
Staff often meet people from the city who are emotionally overwhelmed as a result of issues such as bereavement, relationships, stress, low mood or financial worries.
Many are now trained to help ease a person's immediate distress with compassion, knowing that they can refer them for community support, which the person will be contacted about within 24 hours.
More than 1,000 people in Aberdeen have been helped by DBI-trained staff.
National DBI programme manager Kevin O'Neill dedicated the award to all the staff across all the agencies involved.
He said: "In acknowledging this achievement, we are of course sensitive to the fact our recognition comes from helping those in distress.
"It is this sensitivity to those in distress that inspires us all to work together to improve the outcomes and experiences of these people when they need help most."