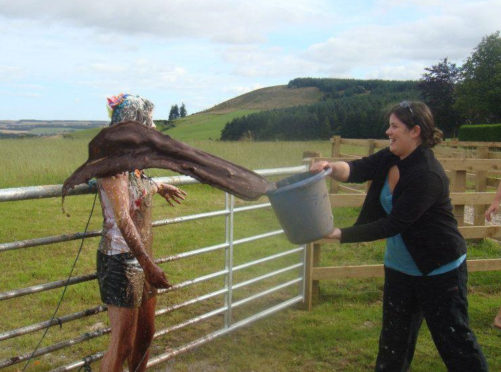 In this frenzied world of technology and ever-changing trends, it would seem there is no room for tradition.
Out with the old and in with the new, tradition has been cast aside in favour of a new way of doing things.
Or has it?
For tradition is actually deeply entrenched in the rich culture of the north and north-east, and offers a fascinating mixture of ritual and belief.
Scratch beneath the surface and you may find that your own memories of growing up are entwined with such rituals.
"You have to, it's tradition" is a common refrain to explain why things must be done a certain way year upon year, and will differ from family to family.
Perhaps it's the annual walk on Boxing Day, or the passing down of a christening gown which has been lovingly preserved. It can be identified as an obscure saying or inexplicable joke rolled out at family occasions, a means of connecting everyone almost instantly.
There are, of course, more well-known traditions across the region, such as the blackening of the bride and groom or silvering the baby.
These rituals have evolved with the passing decades, and have been adapted by the next generation.
Far from being a strange relic from the past, tradition offers a rare insight into who we are and where we have come from.
Some traditions, such as Hogmanay singing in Stromness on Orkney, are not even acknowledged as such, but are simply summed up as the way things have always been.
For Dr Sheila Young, tradition can even offer an insight into emancipation for women; a means of tracking their journey from kitchen sink to university.
Dr Young is an honorary research assistant at the Elphinstone Institute in Aberdeen, having returned to studying later in life.
She believes tradition can vastly differ depending on whether you hail from a rural or urban community.
"I started off life as a careers advisor and lived abroad for a while," said Dr Young.
"When I came home I decided to go back to university as a mature student.
"I did a degree in Scottish Cultural Studies and Intercultural Communications, so I trained people to understand differences – or put simply, what makes a Scot do the things they do?
"It was a way of explaining this process of culture shock.
"I had always been fascinated by hen parties, stags and blackenings.
"I put it to the back of my mind for a while until I decided to embark on a PhD on blackening."
Dr Young turned her findings into a book, Prenuptial Rituals in Scotland, and interviewed 50 women aged 17 to 90 in the north-east.
"It struck me that no one had really looked into blackening in any detail," said Sheila
"There are accounts of stag parties from Roman times, but there seemed to be this silent body of women.
"The tradition of blackening actually comes from foot washing, which can be traced back to the 17th Century.
"The bride and groom would have their feet washed separately by youngsters, and married friends and family.
"The night before the wedding, their feet would be covered in a blackening material.
"In the late 1700s, soot was taken off the chimney and smeared on the bride's foot.
"Soot was supposed to be magical as it could protect you.
"This tradition could be quite painful because a brush would be used to scrub the soot off.
"There was also this ritual of throwing a wedding ring into a basin of water.
"The saying went that the first person to find the ring would be the next person to get married."
This tradition rapidly changed as more blackening material became available, particularly after the Second World War.
"Once there was no more austerity, people started to gather up anything and everything," said Dr Young.
"Leftovers from dinner, manure, fish guts; it could be anything.
"The aim was to collect this bucket of gunge, so it turned into something black, dark and sticky.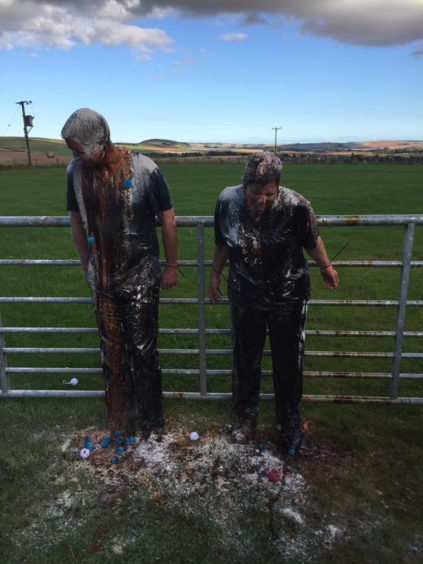 "It's no longer just the bride's feet that get blackened these days, it's her entire body.
"It's very common in Peterhead and Fraserburgh, it's most prevalent in rural areas.
"It also happens right up the north-east coast.
"You don't choose to be blackened, but it's a way of being part of a community.
"It's kinship, it's belonging.
"It's something special – you're meant to try and run away but you're not meant to succeed.
"I think tradition shows the massive changes which have happened to women. In the 1940s, women didn't really drink, they didn't go into pubs because they weren't allowed.
"Women now occupy the same social space as men.
"Tradition saw women give up their job before they got married, and within the year you'd have your first baby.
"You didn't mix with single women and you were tied to the house, whereas men had a lot of freedom.
"The blackening was a farewell to a previous way of life, and marriage was seen as an upward move.
"Now I see hen parties as a celebration, and I think it shows the amazing bonds between women.
"In a way, you're walking your friend right up to the door of marriage."
Dr Young has even heard of a vegetarian blackening which took place in Fraserburgh, whereby friends of the bride made sure not to include any meat-based products.
Blackenings aside, other pre-marriage traditions have slowly faded away.
These include what was known as the show of presents, whereby presents for the bride and groom would be displayed in the bride's childhood bedroom.
"The old lady who lived down the road from you would probably give you stuff like tea towels," said Dr Young.
"All the gifts would be arranged in the bride's bedroom the week before she got married, and they'd all have tags on so you knew who to thank.
"But these days, the bride and groom already live together before they get married so they don't need gifts for the home."
Professor Peter Reid believes the line between tradition and superstition is blurry to say the least, with both elements found in abundance in the fishing communities of the north-east.
Professor Reid is based at Robert Gordon University, and also founded the Doric literature portal – which saw Doric literature made available online.
"Coastal communities had their own set of traditions, superstitions, myths and legends," he said.
"These were all tied to ensuring the safety of those who went to sea.
"It was considered bad luck if you met a clergyman before going to sea, because the next time you saw him would most likely mean that someone had died.
"There were lots of traditions on the making of nets and baiting of lines, and a new net would be splashed with whisky.
"There was this concept of the ancient dame, she was a wise woman who fishermen would seek out to ensure no misfortune would befall them.
"Obviously these traditions aren't as common today, partly because of the decline in fishing.
"I think all these rituals still exist in people's conscious though.
"Communities were once bound by tradition, but that isn't so much the case anymore, partly because people move around so much.
"Tradition is this imperceptible thing, and it's strongly tied to this sense of our own folk.
"It helps connect us to our own past.
"Even industry is based on tradition, you just have to look at the whisky industry.
"Then there's the bothy ballads, the list goes on if you really think about it.
"It enables people to recall the things we have forgotten to remember."
Tradition need not make sense to become thus, as is the case in Inverness.
If you happen to walk down Lochalsh Road, you might want to give the lucky stone a quick rub.
The stone takes pride of place on the side of a house, and generations have given it a passing pat.
Quite why it is lucky, no one seems to know – but even the late first minister Donald Dewar wasn't immune to its charms.
Radio commentator and local historian Bill McAllister believes the lucky stone is in good company in the Highland capital.
"Inverness's most enduring tradition is the Clachnacuddin Stone, where washerwomen at the Ness used to beat their washing dry," he said.
"Generations of Invernessians made a point of touching it and it now stands, encased, in front of the Town House.
"Exiled Invernessians would call themselves 'Sons (or Daughters) of Clachnacuddin'."
Tradition is perhaps richest on the islands, where tight-knit communities have passed down a mixture of stories, sayings and annual events.
Orcadians have swapped one tradition for another, thanks to the ancient game known as The Ba.
Played on Christmas Day and January 1, generations of men have taken part in the sport, which is watched by huge crowds every year.
Gary Gibson is known as the godfather of The Ba, and his family is heavily involved.
Now 85, Gary no longer plays, but he has passed the tradition on to his sons.
Doors and windows on the streets of Kirkwall are barricaded in preparation for the game, which can see a scrum of up to 300 men.
There are two teams known as the Uppies and Doonies, and there is no rule as to how many people can play on each side.
The Uppies play south towards Scapa and the Doonies play north towards Kirkwall Harbour.
Which team you join is depends on what side of the market cross you were born on.
The ba itself is a handmade leather ball, and a new ball is made each year on the island.
The aim of the game is to get the ba into your own goal.
The Uppies can secure a goal by touching the ba to a wall in the south end, and the Doonies have to get the ball into the sea down at the harbour.
For Gary, The Ba is a very special tradition which is worth the sacrifice of Christmas dinner.
"The men's game is always at 1pm, and the boys' game is at 10.30am," he said.
"So players have their Christmas dinner on Boxing Day instead, we've never thought anything of it.
"But if the day falls on a Sunday, we always play The Ba the day after.
"We'd never play on a Sunday, that's just how it is.
"It can last from 1pm until 8pm, and it can get pretty rough.
"I've had some cracked ribs, broken fingers and it's pretty common to break your collar bone.
"There's never anything serious, mind.
"I've been involved for so many years now; my father was a ba maker.
"After the Second World War, we didn't have any ba makers left.
"So my dad copied a pattern of an old ba. My sons are ba makers now.
"It's the talking point of the entire festive season, and the ba will be displayed in shop windows in the run-up to Christmas.
"It's how things have always been in Orkney on Christmas and Hogmanay."
Do you have any traditions you'd like to share with us? If so, please email ellie.house@ajl.co.uk or write to Traditions, Press and Journal Features, Aberdeen Journals, 5th Floor, Marischal Square, 1 Broad St, Aberdeen AB10 1BL.