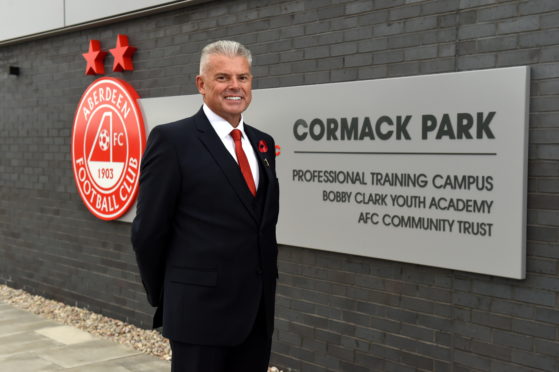 Dons chairman-in-waiting Dave Cormack will today outline details of the club's new strategic partnership with Atlanta United.
Many fans are hoping his appointment will mean more funding for the Aberdeen team, and later this morning Mr Cormack will provide details of further investment from additional partners.
He said he was "honoured" to take on the role from Stewart Milne.
He said: "I'm also pleased to be able to announce a strategic partnership with Atlanta United, details of which will be announced today, and further investment from additional partners."
The software entrepreneur joined the Dons 18 months ago, having previously served as chief executive between 2001-2003, after making a seven-figure investment in the club.
He had been chief executive of US-based Brightree software company, which was sold in a deal worth £567million in 2016.
A lifelong Aberdeen fan, Mr Cormack has been credited with helping find large chunks of the finance for the club's new stadium and training centre at Kingsford.
Much of this has come from his connections in America, where he still frequently travels to to explore funding opportunities.
Mr Cormack even owned the now dissolved American soccer team – the Atlanta Silverbacks – for nearly a year before he left to join to Aberdeen FC in 2001.
He has previously suggested Aberdeen could become "America's Scottish team" by hosting summer training camps for American children, which he estimated could raise £2million a year.
Upon his appointment as vice-chairman in 2018, he vowed to improve the match day experience for fans, stressing for years that a new stadium was the way to do that.
He said the controversial decision to move fans away from "landlocked" Pittodrie would guarantee a more positive fan experience for years to come.
In recognition of the investment he has already brought to the club, the £12million training centre and community facilities at Kingsford have been named after him.
Cormack Park was officially opened last month by Sir Alex Ferguson.
The budget of £10m was exceeded in delivering the first phase but Mr Cormack insisted the investment will be money well spent and said it was a "quality environment."
Now he will take the reins in ensuring the promise of Kingsford can come to fruition.
Phase two – the stadium – is due for completion in 2023.
Aberdeen vice-chairman Dave Cormack thrilled with lasting legacy of Cormack Park | Press and Journal https://t.co/qKAknru3yj pic.twitter.com/HknvKAeTES

— The Press & Journal (@pressjournal) November 1, 2019
With wife Fiona, also from Aberdeen, he set up the Cormack Family Foundation which regularly supports charitable projects.
It has given more than one million pounds to the AFC Community Trust as well as other organisations such as Clan Cancer Support and Maggie's.
The foundation was set up in 2001 to support charities across Scotland, America and Africa.