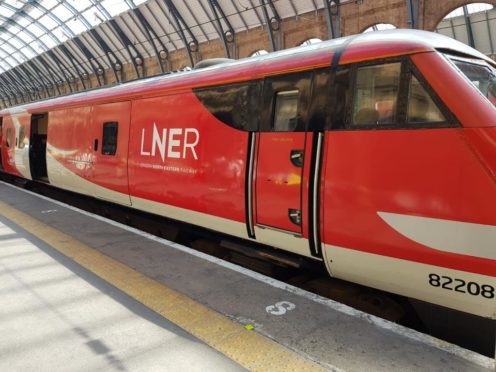 A rail firm has sparked fury by locking toilets on trains leaving from Aberdeen in an effort to crack down on fare-dodgers.
London North Eastern Railway (LNER) says that there has been "an increase in fare evasions from Aberdeen" on its service to Leeds at 6.18pm.
And in an attempt to prevent passengers from hiding in the lavatory to avoid ticket inspectors, the firm is operating a "trial" where the doors are locked for a spell from the city onwards.
One customer, Stewart Walker, was returning to his home in Montrose from Aberdeen via the service when he asked a conductor why the doors were locked.
Mr Walker said: "I went to wash my hands once I boarded the train, only to find every single toilet on the service had been locked.
"When I asked a guard about what was going on he said it was to stop fare-dodgers."
The 57-year-old added: "I think it is totally unnecessary, Aberdeen operates a gated station so anyone who is on a train would have a ticket.
"This makes me wonder what this says about LNER's opinion of Aberdeen passengers, either you pay 50p to use the station toilets before boarding or you keep your legs crossed."
The Press and Journal has seen an email LNER sent to Mr Walker explaining the changes, with the company arguing that the move was designed to clamp down on dishonest passengers.
The message stated: "We have had an increase in fare evasions on certain services which has led to us locking toilet facilities where they usually hide to avoid paying for their service.
"Although Aberdeen is a gated station, these gates do not advise if customers have the correct ticket for the service.
"At these stations customers often purchase the cheapest ticket available and board our services.
"This does not happen on all services but a select few.
"As the 6.18pm Aberdeen to Leeds service has had an increase in fare evasions from Aberdeen we have trialled this in the hopes of reducing the number of customers evading fares."
Last night, Aberdeen Central MSP Kevin Stewart branded the decision "absolutely ridiculous".
He said: "Fare evasion may well be an issue, but to lock toilet doors as a deterrent is unacceptable in the extreme.
"I've long argued that toilet charges should be scrapped in Aberdeen Railway Station, but this is beyond the pale.
"Does LNER expect paying customers to sit cross legged from Aberdeen?  It is absolutely ridiculous."