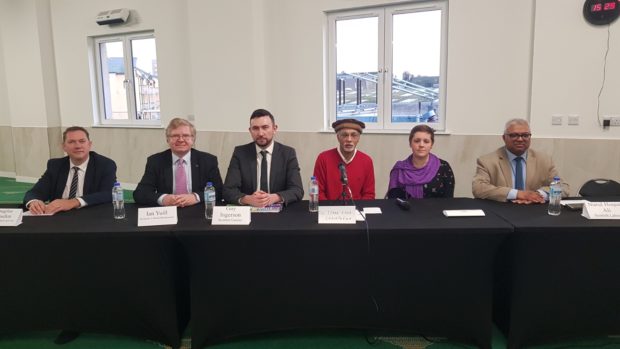 Just days after the London Bridge knife attack, politicians fighting for votes in the general election in Aberdeen have been pressed on the "hostile environment" for people of faith in the UK.
The Masjid Alhikmah and Community Centre in the Granite City held a hustings of prospective candidates aiming to be elected a week on Thursday.
Aberdeen South candidates Douglas Lumsden of the Scottish Conservatives and Liberal Democrat Ian Yuill and Aberdeen North hopefuls Kirsty Blackman of the SNP, Scottish Green Guy Ingerson and Scottish Labour's Nurul Hoque Ali went head-to-head at the city mosque in advance of the December 12 poll.
Hustings chairman Dr Izhar Khan opened the debate by addressing the fatal terror attack on London Bridge on Friday.
He told the crowd, made up of people of many faiths, that it was not up to the Muslim community in Aberdeen to apologise for the horrific events in the capital.
But Dr Khan added: "Like everyone else, we unequivocally condemn acts of terrorism and violence.
"I am not a scholar of Islam, but I would refer to chapter five, verse 32 of the Koran.
"The taking of one innocent life is akin to taking the lives of all people: and if any one saved a life, it would be as if he saved the life of all people.
"We offer our deepest condolences to those affected."
Ahead of what had been dubbed an election on Brexit, a number of issues were discussed – but the question of rhetoric around people of faith was raised regularly.
A member of the audience, who said identifying as Muslim was "hugely important" to her, asked what candidates would do in the face of recent Islamophobia and anti-Semitism in politics, to protect everyone from discrimination.
Nationally, it comes amid the SNP and Labour withdrawing support for candidates over offensive rhetoric and, in the race for the Aberdeen North seat, the Tories withdrawing their support for candidate Ryan Houghton over alleged anti-Semitic, Islamophobic and homophobic internet posts.
Mr Lumsden said: "Some of the language is not very helpful. I think anyone in a position of power should be more mindful of what they are saying."
Another audience member took the Conservative to task on his answer.
To applause within the mosque, she added: "I find it quite insulting, Douglas, that you would say the language is 'unhelpful' when that could quite literally be the difference between someone beaten up or not.
"Definitively – yes or no – do you think when Boris Johnson described Muslim woman as letterboxes – was that Islamophobia or not?"
The Aberdeen South candidate responded: "I don't believe it was the correct language that he should have used.
"I don't believe it was Islamaphobic but I still think it was wrong."
Labour candidate Nurul Hoque Ali faced similar scrutiny on anti-Semitism within his party – committing to support work to investigate discrimination and abuse of Jewish members if elected.