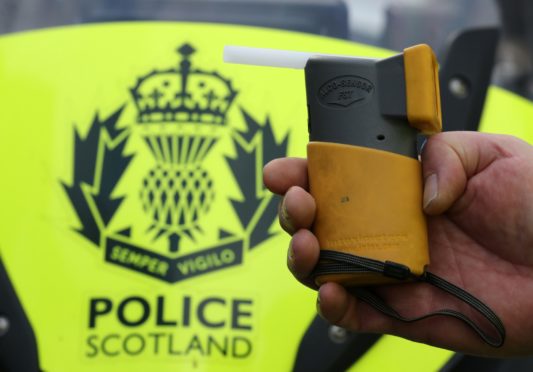 The charity Crimestoppers has urged the public to call out regular drink drivers during the festive period.
Its new campaign coincides with police also launching their annual crackdown on motorists driving while under the influence of alcohol over Christmas.
The charity's North hub, which takes in anonymous calls from the Highlands and Islands, Inverness and Aberdeen, received 253 calls about motorists between April 2018 and March 2019.
Those calls resulted in 17 people being arrested and charged in connection with drink driving.
Across Scotland during the same period, the independent charity received over 1,000 anonymous calls about regular drink drivers, resulting in 78 arrests.
The campaign this year aims to encourage Scots to stave off the temptation to drive while over the limit by using real life examples of calls the charity received last year.
During the festive period office parties and get-togethers often lead to an increase in people drink driving.
But it is hoped that the examples of a mother drunk on her school run, a work colleague who regularly drives home drunk from the train station and a man who takes the back roads to the village pub will help deter would-be offenders.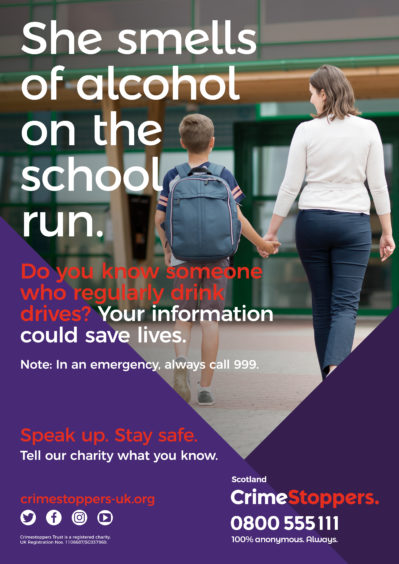 The charity has seen an increase in calls from people in rural areas concerned that someone they know is risking the longer drive home while drunk behind the wheel.
While the drink drive limit in Scotland was lowered in 2016 in an effort to improve road safety, about 20 people still lose their lives each year in alcohol related road accidents and around 90 are seriously injured.
Angela Parker, national manager for Scotland Crimestoppers, said: "No-one wants to meet a drunk driver on Scotland's roads, so your information could help prevent an accident from happening and could even help save lives.
"We appreciate that if you're close to someone who gets behind the wheel regularly while over the limit, it can be difficult to come forward.
"It could be a work colleague, a neighbour, or even a family member or a friend.
"This can explain why some people are reluctant to go to the police because of the fear of being identified.
"By trusting us with your information you'll remain 100% anonymous.
"We never take personal details and calls to our UK contact centre on 0800 555 111 and information passed through the anonymous online form at www.crimestoppers-uk.org cannot be traced.
"Together we can help protect those you care about."