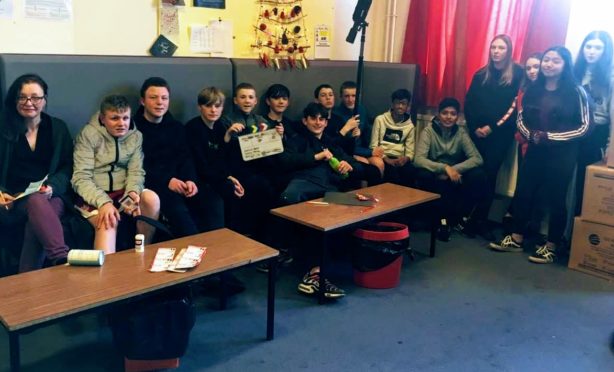 Pupils at an Aberdeen school have produced a unique short film in Gaelic.
An enthusiastic group of Gaelic learners at Hazelhead Academy were keen to get involved after seeing a poster for a competition, so teacher Jane Maceod got in touch with FilmG to arrange a workshop.
The session gave the pupils the chance to work with a professional filmmaker and actor to produce a five minute short film in Gaelic for the competition run by FilmG.
The story was developed and scripted by the pupils, centred around a boy who takes to the boxing ring and sees big changes.
FilmG project manager Eilidh Rankin said: "The FilmG Workshops programme is a fantastic opportunity for high school pupils to get their teeth into a project and to speak Gaelic outwith the formal classroom environment.
"We encourage pupils to use their individual talents within the team; with room for everyone to shine.
"We hope FilmG continues to uncover budding writers, actors, prop-makers, make-up artists, interviewers, social media officers, camera operators and directors for many years to come."
The recent addition of the Best Youth Group Film award – which is open to primary classes and youth clubs for children – has also been a hit and organisers of FilmG hope to see equally healthy entry numbers this year.
The main youth category prize is £1,000 for the best film.