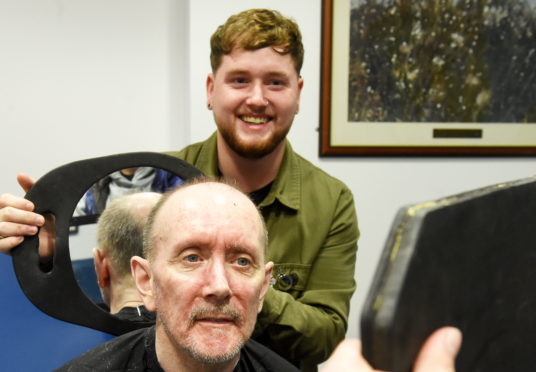 A pair of city barbers gave up their day off to give a free festive trim to patients at Aberdeen Royal Infirmary.
Patients in wards 104 and 111 enjoyed a haircut from the comfort of their bedside yesterday thanks to big-hearted duo Liam Robertson and Brandan Milne of Hombre Barber Shop in Beechgrove Terrace.
Such was the success of their pop-up barber shop that they plan to return next week for more stints with the scissors.
Patient James Blair said: "I'd never have expected this in hospital, but it's great to get a haircut while I'm here as I was needing a trim."
Liam said: "It's just something we wanted to do for people who find themselves in hospital at this time of year, it's a bit of a gift for Christmas."
"The reaction has been exactly what we wanted to hear and I think it's good for patients to get to speak to people who are not doctors or nurses.
"It lets them feel a little bit more normal in a place that isn't always a happy, cheery environment. We hope it will help take their minds off things."
Business support manager for acute care at NHS Grampian, Lyndsey Beckwith, has been very pleased with the initiative.
They got in touch with the offer of volunteering and we just thought it would be something nice to give a little bit of Christmas cheer," he said.
"We have a lot of elderly and frail patients who are away from home.
"Little things like this can cheer them up and help with their self-esteem and feeling of well-being, even though they're in hospital.
"The guys are coming back next week to do a couple of days.
"The patients have really opened up and I think they've appreciated having a bit of company, as well as getting pampered.
"They never expected to get a bedside haircut while they were in the hospital."