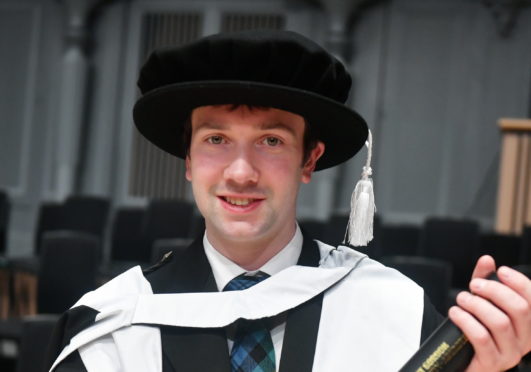 Kathryn Symmond had a difficult journey on the way to receiving her degree.
The 23-year-old, from Cove, lost her mother and grandfather within years of each other but despite her grief, was determined to achieve her goal of one day running her own business.
Miss Symmond is now one step closer after graduating with a degree in marketing yesterday.
She said: "I think they both would be very proud of me. Mum always told me to never give up, just as she didn't even at the end.
"My experience at RGU has helped me deal with the difficult stuff in my life – life is short and you need to seize the opportunities that come your way."
She said that despite the hard times, her placement at NHS Grampian was a highlight of her time at university.
Miss Symmond added: "When I was doing my placement at the hospital my mum found out that her cancer diagnosis was terminal, even then she told me not to worry and work hard on my placement.
"She was an incredibly strong woman and it has rubbed off on me and my siblings Jessica and Robert."
During her her third year placement, Miss Symmond realised she had a love for all things digital and is now studying an MSc Digital Marketing at the Robert Gordon University.
Former Olympic skier takes home doctorate at RGU graduations
An Olympic cross-country skier with a passion for sports coaching has graduated from Robert Gordon University (RGU) as a doctor of philosophy.
Peter James Barron, from Huntly, took to the stage and accepted his PhD in front of family and friends at the Music Hall in Aberdeen yesterday.
Returning to RGU, where he had studied for his undergraduate degree, the 29-year-old took a PhD project.
As an undergraduate he was competing in the 2010 Vancover Winter Olympic Games while being supported through the university's sport scholarship programme.
He said: "When I was a sport scholar, RGU was really supportive with exams, helping with coursework and allowing me to train almost full-time in preparation for the Vancouver 2010 Olympics."
Mr Barron added: "Today is a day for my friends and family to enjoy, my celebration came when I saw that I had passed.
"During my PhD, I coached RGU's water polo team and was captain of the men's water polo team.
"It was a great opportunity to focus on something away from academia, develop as a coach and spend some time with friends.
"I was fortunate to volunteer at a local club in Ellon during my time at RGU, but also to gain three to four years of experience as a voluntary coach with Scottish Cycling."
Final project: Fraserburgh on Film
A filmmaker who captured the last 100 years of his hometown for his final project was celebrating his success yesterday.
Andrew Davidson created Fraserburgh on Film, a digital archive of the town featuring the war, royal visits and other historical moments, for his dissertation.
It has already proved a hit online, with his dissertation supervisor Professor Peter Reid describing it as a the "best film archive that any town in Scotland has".
And yesterday, the 34-year-old toasted his success while picking up a MsC in information and library studies from RGU.
Mr Davidson chose the postgraduate course after graduating with a BA in media previously – jumping straight into third year after a spell working for Mongolia National TV.
Mr Davidson, who also taught in China and has an HND from NesCol, said: "When I completed the media BA I worked on a film project with Aberdeen City LIbraries for young volunteers and then decided to study the MSc, so I took a bit of a roundabout route to get to where I am."
He said a highlight had been the Fraserburgh on Film project, and praised staff for supporting the effort.
He added: "I recently launched it to the public and I hope that the project will continue to grow and become a digital community archive with a focus on preserving the social history of the north-east and act as a place to learn about the Doric dialect."
Mr Davidson is now hoping to combine his skills in media with his passion for heritage and culture. His digital film archive can be viewed at www.fraserburghonfilm.com
How RGU graduate juggled business leadership with studying
Despite running his own business and raising his three-year-old son, Scott Russell still found plenty of time to study.
The 37-year-old from Buckie received his international hospitality management degree yesterday after a busy period where he juggled university with his place on RGU's startup accelerator programme.
After founding Destiny Partnership with his partner, Jessica Young, he was assisted with funding, expertise and mentoring to help shape the business.
The organisation is now on the path to becoming a charity and, as part of this, the pair now teach first-aid and live-saving skills to children throughout Scotland.
Alongside his professional qualification, Mr Russell said his time at RGU has opened many other doors for his future.
"The RGU startup accelerator is a fantastic platform for entrepreneurs, and those with valuable ideas and products to gain the help they need to succeed," he added.
"Without it, lots of new undiscovered talent would certainly remain unseen and I thoroughly enjoyed every moment."